For more than a year, the Board of Directors of Lemonade International has been in prayerful discernment about the next chapter of our international development work. Acts 1:8 describes the concentric circles of gospel influence, from Jerusalem to Judea, Samaria, and the ends of the earth. Lemonade International feels called to expand our vision to the next concentric circle, out from La Limonada and into Guatemala City. We want to empower the next generation of community development leaders, following the successful model Tita and the Vidas Plenas team have embodied in La Limonada.
Many communities in Guatemala City continue to experience growing poverty with the same physical and spiritual needs we've encountered in La Limonada. Since the pandemic, Guatemala's school dropout rate has nearly doubled. While there is much need, local leaders continue to rise up around the city to serve their neighbors. We're excited to introduce you to our newest one – the Asociación Comunitaria Alcance (Community Outreach Association).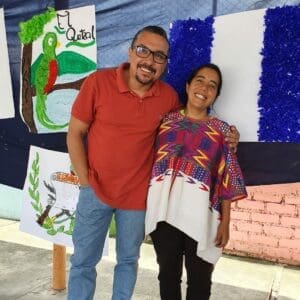 We've been working closely with Wilian Quiñónez, Founder and Director of the ministry, to better understand the needs in the community. Together with many neighbors, churches, local businesses, and school partners, they have established five community outreach centers in some challenged neighborhoods on the eastern edge of Guatemala City. They strive to be "a space for opportunities and hope for children, adolescents, and at-risk youth." The five outreach centers combined serve more than 1,000 children. During the school year, each Alcance Center runs a daily academy program, staffed primarily by volunteers.
We invite you to take two minutes to meet Wilian and learn more about Alcance.
We enter our Give Christmas campaign with joy, excited to join Alcance in the work they are already doing!
Would you Give Christmas to our friends at Alcance this year? Together, we'll provide shoes and school supplies for children, healthy meals for families, and tools for local leaders to light the way for their communities through education, gang prevention, and community relief.
Post a Comment or Prayer