Prepare a child to return to school
$30 b
uys school supplies and shoes to help one child attend school.
Alcance Comunitaria uses local providers to purchase the supplies requested for each child by their local school. Send them prepared when they return to classes in January!
Share a healthy meal
Your gift of $200 could cook meals for 20 families next month.
Prior to COVID, children received a healthy meal each day at the Alcance Centers through their Barriguita Llena program (Full Bellies). During the pandemic they began sending the meals home – which led to sending home meals for the whole family. 
Equip a Local Leader
$600 can purchase an office computer for one Center Coordinator.
Although mostly volunteer run, a staff coordinator serves each Center. These local heroes are currently in great need of a basic computer for administrative work, to track budgets, purchase supplies, and keep reports.
Resource a Center
$9,150 can fund a coordinator and nutrition program for an Alcance Center for six months!
Nourish a neighborhood through academic support, spiritual formation, parental empowerment and community development programs.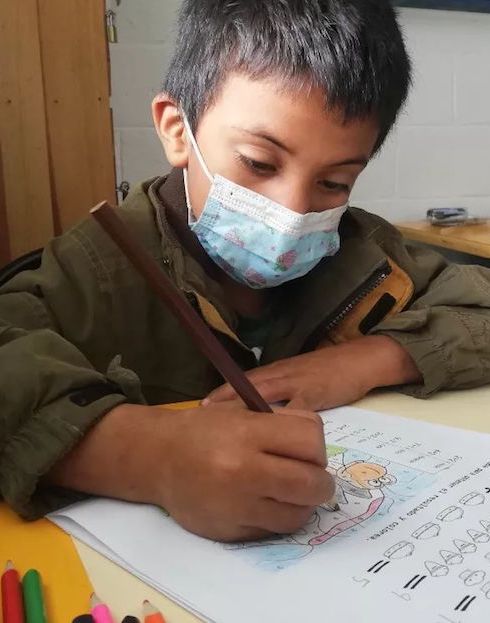 We know that education is powerful.
It gives individuals the tools they need to take ownership of their lives, and it leads to thriving families.
However, in Guatemala City, many children drop out before they're able to reap these benefits. According to estimates, almost 187,000 children and adolescents who enrolled in school in 2021 didn't complete the school year — that's 71.6% more drop outs than the year before.
Teaching and supporting families and young children is also the primary method of gang prevention. Supporting Alcance centers is a powerful way to build communities and keep children in school.
We're stepping into new neighborhoods.
This Christmas, we are excited to begin our journey with new Guatemalan partners and invest together in their communities. Please join us as we equip leaders, share a meal with families, and prepare children to return to school!
Alcance Centers support children and families in Guatemala City.
Asociación Comunitaria Alcance has built five neighborhood centers in eastern Guatemala City. 
Let's Give Christmas together.
Help our partners faithfully instruct, disciple, and give life-skill preparation to the children in Guatemala City.
We are committed to honor your generosity and use your donation in the most effective way possible. Donations will be used to provide assistance where needed most as we work to help the families and children of Guatemala City. All donations are tax-deductible.