By Christa Heinzelman
"Blessed is the one who finds wisdom, and the one who gets understanding, for the gain from her is better than gain from silver and her profit better than gold."
Preverbs 3: 13-14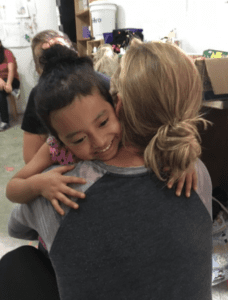 One person, one response, one moment, one forever memory…ONE is all we need to make a difference.
For me, that one is Bailey, my niece, who invited me to go to the community of La Limonada through Lemonade International. The Holy Spirit is very much present and God is incredibly ALIVE in the hearts of these sweet people. I feel our prayers prevail over the community and still protect them to this very day.
Before going on the trip, my husband got word of a little girl named Sophie who had fallen out of a 2nd story window and was not expected to survive. She needed immediate attention and her family did not have the finances to afford the medical care needed. We felt led to help and she got the care needed to fully recover from her fall. We were not aware of the precious gift waiting for us in the near future when we were able to meet sweet Sophie.
Speak of JOY!!
That is a moment I will never forget. I wish I had more time with her…to hear her laugh…to see her smile. She looked restored and exuded joy…. just as a little girl should. It is a vivid memory that I will always have because the Holy Spirit led the heart of my husband to respond.
There is a ripple effect in my experience that started with ONE person which led to my response, which led to spiritually-awakening moments, which now has my mind etched with lasting memories. I may be physically in a different part of the world but my heart and prayers are with the people of La Limonada.
Just like Sophie, there are other children, in need of sponsorship. With your support, you could give a child the opportunity to learn about God and receive an education. They are fed a hot meal during the school day, given vitamins for adequate nutrition and they even have the opportunity to brush their teeth.
You could be that ONE person for a child by sponsoring through Lemonade International.
Sponsor a Child this Christmas Season
Post a Comment or Prayer