As we conclude our blog series on the Lord's Prayer called "In Limonada as it is in Heaven," we invite you to pray with us recognizing that God is in control and to appeal to him to make his Glory known through the people of La Limonada.

Read: Introduction | Part 1 | Part 2 | Part 3 | Part 4 | Part 5 | Part 6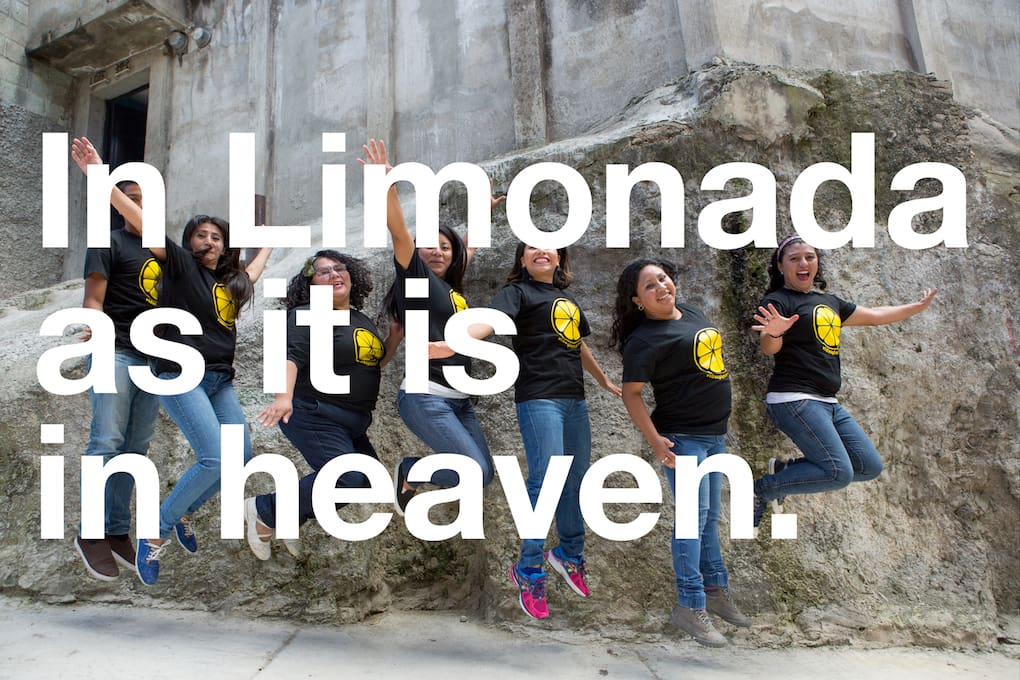 "For thine is the kingdom,
The power, and the glory,
or ever and ever.
Amen."
This week's reflection on the Lord's Prayer is led by Chal Knox, Executive Director of Lemonade International.
La Limonada is a place of both beauty and brokenness. While there we experience both the smell of hope and the smell of indecent conditions. So as we conclude our series reflecting on the Lord's Prayer, and we passionately pray against the injustice and violence that we see in La Limonada, it is particularly challenging to consider how the Kingdom, the Power, and the Glory are in God's hands and not our own.
Would it be better if ours was the kingdom? Couldn't we make more of a difference if we were in control? If we had the power? Why isn't God doing more?
Sometimes in life we find that it is easy to see God's blessings. Yet at other times the pain and suffering in the world seem much easier to perceive. Gregory of Nyssa once called St. Basil's faith "ambidextrous" because he welcomed blessings with the right hand and afflictions with the left, convinced that both would serve God's design for him. It is a gift to live life with both arms open, receiving God's blessings with joy in one hand while at the same time accepting in the other hand that there is real, overwhelming evil in the world.
But it is not easy to live like this. Some who have felt alone or confused when facing struggles, or who have experienced serious church hurt, become unable to extend a hand to receive God's blessings. They can only see the pain from their past. This often results in living spiritually jaded. Others are happy to enjoy God's blessings but uncomfortable about the pain and suffering that God allows. This results in becoming spiritually naïve.
This kind of two-handed faith is the kind of faith that gives teachers and staff working in La Limonada the ability to jump for joy while still being keenly aware of the hardships and pain of the in which community they work.
To pray that the kingdom, the power, and the glory are God's forever means that we give up control. We act, we fight, we pray, and we wait expectantly. We celebrate God's victories together, and we mourn the tragedies together. But we do all of these things recognizing that He is the Giver. He is the King. And we are His beloved servants and friends.
Pray with us…
Father, teach us to listen to You as we pray, to hear Your voice before we act on behalf of others. To humbly remember that we are an important, but small part of Your Kingdom and Your Body. And let us see your kingdom come through each of us, including Tita and her team in La Limonada.

We trust in Your Power, not only when we feel weak, but especially when we think that we're strong. Encourage us that in You "we are hard pressed on every side, but not crushed; perplexed, but not in despair; persecuted, but not abandoned; struck down, but not destroyed." There is no one so far lost that Jesus' grace can't reach, and there is nothing that is impossible for You.

Teach us to give You the honor and recognition when plans succeed, and to be patient in faith when they seem to fail. To seek others' well-being before our own, and to make Your Name great in every moment of life that You give us.

And lead us to pray with Your unending perseverance, patience, compassion, and eternal perspective. May your kingdom come and your will be done in La Limonada as it is in heaven.
Amen.
---
Join us as we continue to pray for La Limonada by joining our prayer email list:
We are putting together a list of people who will commit to praying for La Limonada. On occasion, we will be using this list to send out prayer requests about special needs. Would you like to be on this list?
If so, join below!
Post a Comment or Prayer