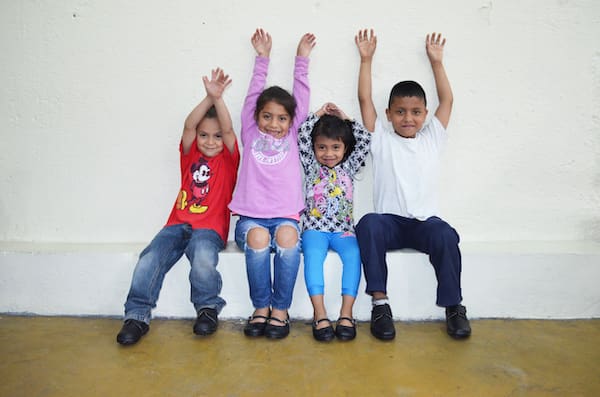 ---
Would you like to upgrade your phone this Christmas? Would you like a good deal on some other great piece of technology? If so, you're probably looking in the wrong place!!
INTERESTING FACT…one of the greatest technological advancements in the last 5,000 years is SHOES!! You heard it right…the first shoe prototypes were made thousands of years ago from soft, wrap-around leather and looked like sandals or moccasins. In fact, until only about 150 years ago, shoes hadn't even advanced to have a differentiation between left and right feet.
Could you imagine a world without shoes? Imagine not having a car, walking to school, getting to work, visiting your family in other cities…how challenging it would be to walk everywhere without shoes on your feet? Living just one day barefoot seems impossible in the U.S.!
Sadly, this is the reality that confronts many kids who live in the community of La Limonada. Those children who can't afford shoes face the shame and loss of not being able to attend public schools in Guatemala.
But God chose someone right from the La Limonada community – Don Otto – to change the script and create opportunity for the children with…you guessed it…SHOES!
Otto was one of the original residents of La Limonada. He often tells stories of his first home in La Limonada that was made of "wooden pallets and tarps." God transformed Otto from a man hopelessly gripped by gang life into a Godly man gripped by grace. Otto now mentors young men seeking to start over by including them in his shoe-making business. Through his partnership with Lemonade International, each Christmas he and his team make shoes for every child in the community with school-approved designs.
It is amazing to witness the children when they are gifted these shoes…as you can see from the pictures, they are elated and filled with hope! Shoes exemplify dignity, safety, clean feet, pure joy and access to public school and education. Shoes are more than the physical to these children–they create a spiritual path toward hope and a future. The hands of the people who make the shoes for the children serve and seek Jesus, and the children who receive these shoes will have the opportunity to do just the same.
Will you help us Give Shoes to the children of La Limonada this Christmas?
Post a Comment or Prayer