---
Today is #GivingTuesday – a global day of generous giving!
After watching cyber deals flood your inboxes throughout Black Friday and Cyber Monday, you have seen opportunities to pay a little for gifts with big value. Today, we are asking you to give a little donation to give big impact to children in La Limonada!
A donation of $15 provides 3 bottles of children's vitamins – enough to cover the needs of one academy for one day.
Guatemala has the fourth-highest malnutrition rate in the world and the highest malnutrition rate in all of Latin America. Malnutrition can stunt growth and cause developmental and behavioral problems such as irritability, anxiety, attention deficits, fatigue, and apathy.
Children growing up in La Limonada are often given a piece of candy, a tortilla, or soda to quickly alleviate their gnawing hunger. But their bodies lack the basic nutrients needed to grow, learn, and thrive.
Our goal is to raise $2,000 to cover 50,000 vitamins this #GivingTuesday. Will you help us knock out this goal? Will you help fuel little hearts and bodies to grow "in wisdom and stature, and in favor with God and man" (Luke 2:52)? Will you give these tiny acts of big love and justice?
---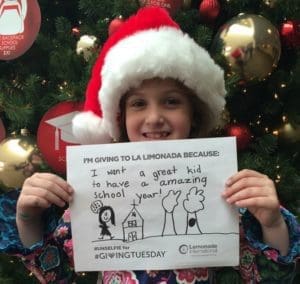 Share why you are giving to La Limonada this #GivingTuesday with an #Unselfie!
Simply download, print, and write your answer.
Take an #unselfie and post to Facebook or other social networks. Text to your friends and family. Share why generosity is important to you this season!
Don't forget to use the hashtag #unselfie AND #lemonadeintl so we can see and share your pictures today!
Post a Comment or Prayer