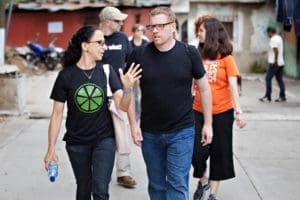 Over 10 years ago Tita Evertsz started serving the community of La Limonada.
This community of over 60,000 people developed out of a 36 year-long civil war – the longest in Latin American history. During these years, dictators and military leaders committed despicable acts of violence and terror against their people.
These atrocities led to a massacre of over 200,000 people and caused thousands to flee to rural areas in search of refuge in cities.
It is from this unrest that settlers took claim to land that would become known as La Limonada. Here they built homes in an area the government owned and once considered "uninhabitable."
La Limonada, now a "Red Zone" – a designation given to Guatemala City's poorest and most dangerous neighborhoods, is now considered the largest urban slum in Central America.
Over the years, a sub-culture of extreme poverty has taken root in La Limonada. This has led to a lack of education, job opportunities and unsustainable living conditions – often including a lack of access to running water and electricity.
This community now consists of ten neighborhoods ruled by rival gangs who have also instilled a deep-seated culture of fear.
It has become an ignored and forgotten community. The government and often even the church keeps their distance. There is a saying in La Limonada, "Even Santa Claus doesn't visit La Limonada."
This is the community that Tita walked into in 1994. She had a calling to serve wherever God would lead her. Despite local church leaders' warnings about the community due to its violent reputation, she had a deep concern and passion, and chose to go out of obedience to God.
As a result of this vision Vidas Plenas was formed in 2001.
A few years later she was introduced to Bill and Cherie Cummings, Donnie Long and Leah Arrington as they were visiting Guatemala City on a missions trip with their church. This little group of people, with a desire to support Tita and La Limonada, formed a nonprofit called Lemonade International.
Over the last 10 years, Lemonade International's calling has been laser focused: Support Tita and her friends as they seek to break cycles of poverty, violence and injustice in Central America's largest urban slum.
Serving alongside Tita…
We have seen 4 Academies opened that have served hundreds and hundreds of children – giving them a hope for an education that is so vital for a better future.
We have seen God work miracles with gang members.
We have seen generations transformed as students receive high school and college scholarships and return to La Limonada and become teachers and counselors in the very academies where they were once students.
We have seen a beautiful community of donors and supporters just like you join us along the way.
All has not been easy. There have been many setbacks. But God has been abundantly faithful to Tita and to Lemonade International in ways that we can only describe as miraculous.
Together, we have seen hope grow out of some of the darkest places. Along with Tita, we sit on the edge of La Limonada and all we can smell is hope.
As we celebrate 10 years of serving La Limonada, we want to say, from the bottom of our hearts, "Thank you."
We would love to have you join us at our Anniversary Celebration in Cincinnati on September 15th.
If you can't join us, would you consider a special 10 year anniversary donation as we look forward to many more years of serving alongside Tita and her team in La Limonada?
You can reserve tickets or make your special donation here:
Post a Comment or Prayer