This Christmas season, would you consider a one-time year-end gift to provide a new pair of uniform shoes, made locally by Otto in his workshop, and a bag of basic school supplies for one child?
We need to cover the cost of 439 pairs of shoes and school supply packs for all of the children attending the Limon, Mandarina, Lima, and Toronja academies.
A gift of $35 covers both a pair of shoes AND pack of supplies for each child.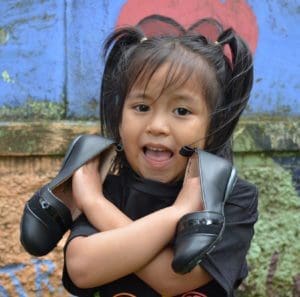 A donation does more than give a pair of shoes or provide a few pencils and pads of paper. In fact, your gift may mean the difference between a child confidently beginning the school year this January or being shamefully kept home. The difference between picking up a pencil with hope for the future or settling for a gun and gang life.
Investing in shoes and supplies means investing in the kind of "hope and a future" we believe God wants to provide these precious ones. They are keys to opening the door to another year of school.
Our friends at Forest Hill Waxhaw agreed. Their children's ministry shared about Give Christmas with their classrooms. Children like Timothy responded with generosity and love for friends in the Toronja academy. He gave his whole piggy bank to make sure the children had the shoes they need to go to school!
Thanks to Forest Hill Waxhaw, the 52 pairs of shoes for Toronja children are fully covered. That means we have 387 pairs of shoes left to go.
Check out this fun video of Timothy with Jenny Schmitt, the Director of Children's Ministries, where he shares about why he believes giving is better than receiving this Christmas.
Post a Comment or Prayer