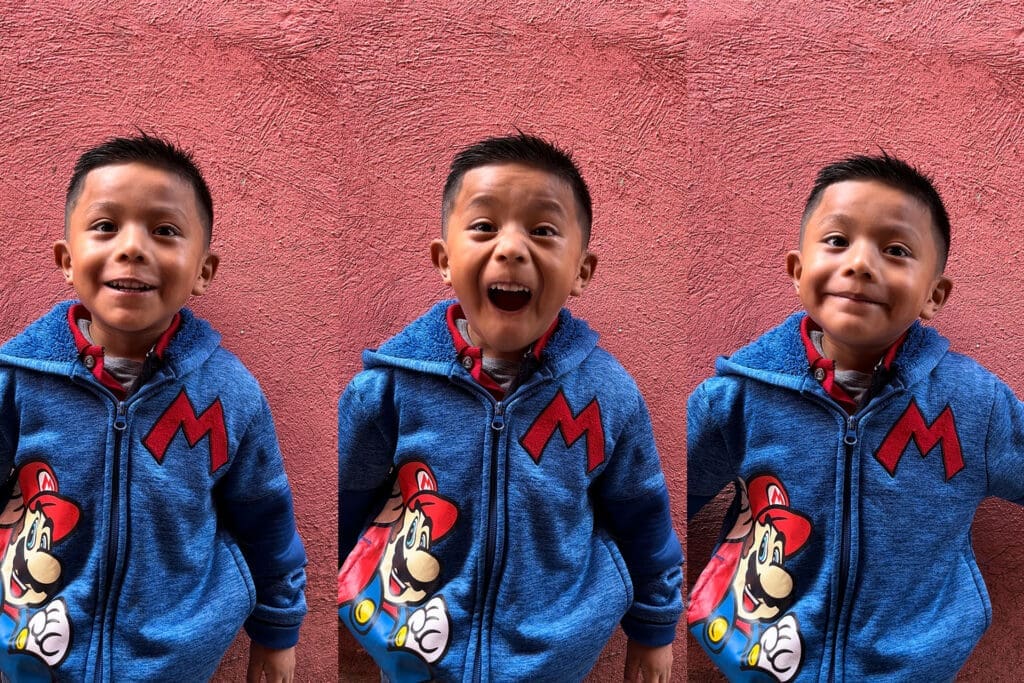 Recently Lizza and Cesar were working in La Limonada to help prepare for the academies to reopen. While Lizza was taking pictures, a young man drove by on his motorcycle and stopped to say hello.
She almost didn't recognize Abdias.
The last time she saw him, Lizza was teaching his class at the Limon academy in 2008 when Abdias was only 10 years old. Now Abdias is a young man, has graduated high school, is the manager at a convenience store, and is married with two children.
He stopped to tell Lizza how she and the Vidas Plenas team had made such a big difference in his life, keeping him out of gangs and on the right path. The entire staff invested an abundance of love into these students at a pivotal time in their lives.
The way teachers sacrifice everything to help their students has always inspired me. As we approach Easter, I'm reminded that God works in the same way to save the vulnerable. But when we try to explain what God is doing in La Limonada, sometimes the immense number of needs eclipses the faces of the individuals we serve.
In his book Something Needs to Change, David Platt was profoundly moved during a trek through the Himalayas as he encountered people with urgent physical and spiritual needs. On his flight to Asia he found himself consumed with the overwhelming statistics concerning the poor and oppressed in the world before realizing what he missed right in from of him:
"Somehow, staring at statistics on poverty and even studying the Bible had left my soul unscathed. But when I came face to face with men, women, and children in urgent spiritual and physical need, the wall in my heart was breached. And I wept." (Something Needs to Change, David Platt, p. 3)
When we look only at statistics and accomplishments, we can miss seeing the faces of those we serve.
In Luke 15, a group of religious leaders criticized Jesus for welcoming sinners and eating with them. In response, Jesus told the story of a shepherd who left 99 of his sheep behind to look for one that was lost. He cared so much about the one sheep that he later called his friends and neighbors together and said, "Rejoice with me; I have found my lost sheep!" 
Our work together in La Limonada has taught us the same thing: making a big difference is about finding the one child in need.
The statistics of poverty matter to Lemonade International, but more than that, we care about each unique individual—one child, one sponsor, one name. Millions may be living in poverty, but the importance of affirming each child's unique identity is vital as they learn to steward their God-given purpose.
We often find that children who come to the academies don't know their birthday. In addition to now getting to celebrate their birthday with love and support, how much more important is it for the children in La Limonada to have leaders pushing them forward to be who they were born to be?
Platt closes his book with the following: "You are not in your city or community by accident. You are in your job, your school, your neighborhood, or your apartment complex with the gifts, skills, abilities, and resources you possess by divine design. God has sovereignly given you unique opportunities for the spread of gospel hope in the world around you." (Something Needs to Change, David Platt, p. 196)
You are more than a number. Each child in La Limonada is more than a statistic. Abdias is a child with real challenges and a real life that was saved. And Jesus was willing to give everything to save just that one.
Happy Easter!
– Chal Knox, Executive Director
Post a Comment or Prayer