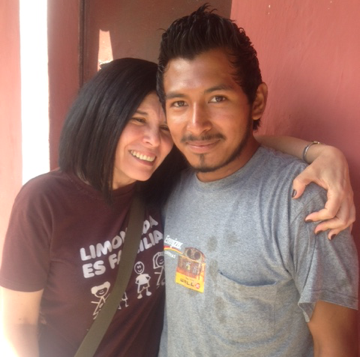 Edy grew up in La Limonada surrounded by scarcity and violence.
Many of his peers began making life-altering decisions by the age of seven, spiraling into destructive, desperate, and fatalistic lives, without a source of hope that life could be different. They sank into the darkness. Many are active in the gangs, in jail, or have died.
But not Edy. Edy was not alone during his most vulnerable years.
This is his story in his own words.
My father died when I was two years old, leaving my mom and two sisters to live with our grandmother. We always felt united and still all live together today, along with our aunt and her four children.

I began attending the Academy when I was 11 years old. The Bible classes helped me a lot in my personal life. I had not thought much about the future before, but my teacher helped me think about it with hope. I always remember how much I enjoyed camp and how you helped us learn all of the 10 commandments. But mostly, I remember how the psychologist and my teacher always cared about me.

When I was 14, I stopped going to the academy to try to find work to help with our household expenses. My goal was to help my mom, but one year later, you helped me with a scholarship so I could go to high school.

I did not like to study. I didn't want to continue. But the desire to improve propelled me. That is what the sponsors have done for me – knowing they supported me helped give me the motivation to keep going. I thank God and the sponsors who have helped me to move forward and succeed. I can say that I have seen God through them and through the staff who love me.

I graduated in November from high school with a diploma in computer science. I found work at an auto repair shop. I really like my job. This next year, I plan to take some courses in auto mechanics to increase my skills at work. I hope this will help me continue to get better jobs, so I can continue to grow and go to college.

I dream of having a better job, a home of my own, and perhaps later to have a small car.

I would like to say to the sponsors: Thank you very much! May God bless and prosper you, because you helped me to improve our lives. Although it has been difficult, I will continue struggling to not disappoint you, because I'm sure that you made sacrifices to make my dreams possible."
A scholarship enabled Edy to finish high school and get honest work. But more importantly, it gave him a tangible expression of love and hope. He could have looked around at the graffiti and bullet holes and given up so many times. But he had sponsors behind him every step of the way, people who wanted him to know how much Jesus loves him and has an abundant future for his life.
Will you help other scholars like Edy know that there are people behind them?
Let them know there are people who believe their dreams are not only possible, but worth sacrificing for. People who believe their God-given potential is worth investing in.
*Interview by Sofia Scoffield
Post a Comment or Prayer