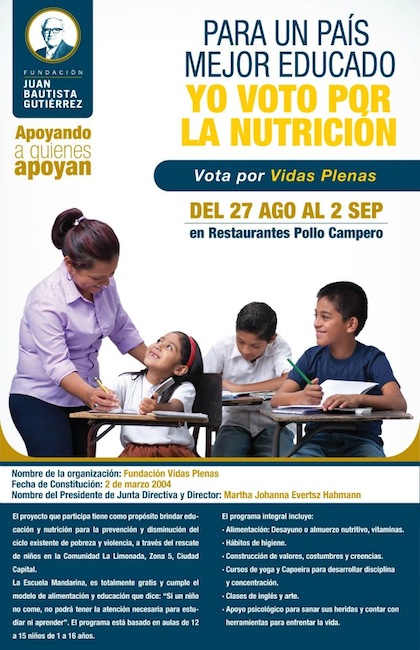 As you may have read in this post, Vidas Plenas (the organization led by Tita Evertsz that we partner with in Guatemala) is one of the two finalists for two grants that will be awarded following a public vote at Pollo Campero restaurants in Guatemala from August 27 – September 2. Following the vote, $153,846* will be awarded for first place and $64,102* for second place.
Voting ends on Sunday, September 2 so there is only three more days left to vote. If you know anyone in Guatemala please encourage them to vote at Pollo Campero restaurants all throughout the country. No purchase is necessary and each individual can vote one time per restaurant per day.
Results are expected on Thursday, September 6… so we'll notify you as soon as we find out.
*US Dollar equivalents based on the grant award amount in Guatemalan Quetzales
Post a Comment or Prayer