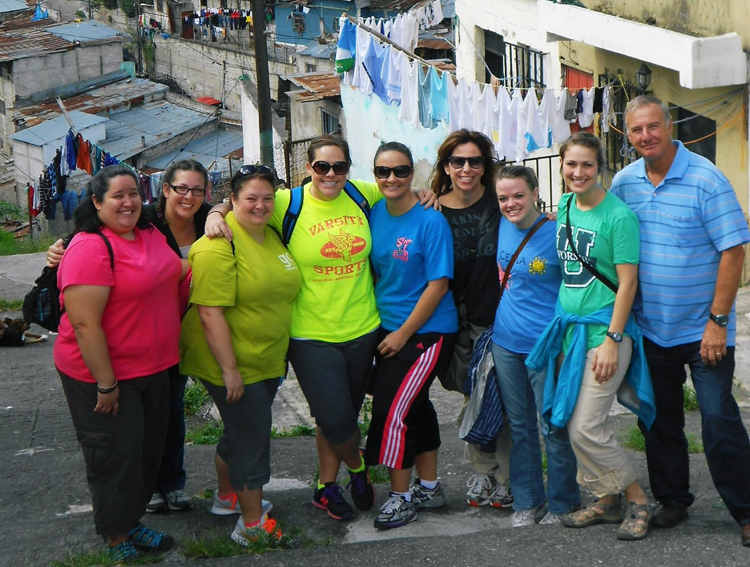 This guest post is by Kim Ortiz, who recently visited La Limonada with a group from Istrouma Baptist Church in Baton Rouge, Louisiana. A lifelong Louisianan, Kim is a chemical engineer and is the proud owner of two miniature schnauzers.
I spent the weeks before our trip to Guatemala praying that the Lord would allow me to see the people of Guatemala—and especially those in and around La Limonada—through his eyes, that he would curb my words if they were not words of love, and that he would remind me that the American way isn't the only way to do things.
The night before we left, I wasn't able to sleep due to the excitement. This was my first vision trip and the first time I was leaving the country by airplane. Landing in Guatemala brought all that excitement to life. The landscape was beautiful, the people were welcoming, and I felt a love for these people that I know was Spirit breathed.
Our week started out at the Limon Academy and ended at the Mandarina Academy. At the academies we led Bible lessons on loving our neighbor and fighting the good fight. We made bracelets with the younger students that had two fish and five brown beads to remind them of the five loaves of bread in the Bible story. With the older students, we talked about fighting the good fight to turn from ways that don't honor or glorify God and instead promise to fight or change our actions to ones that more resembled Christlike behavior.
I remember thinking after we finished teaching the Bible lesson and were leaving to make some home visits on Monday that the lesson didn't quite go as I had planned. In that moment the Spirit reminded me that I needed to remove my pride from the equation and joyfully share this lesson with these students and that he would take care of the rest. I found out later in the week that the students at Limon had hung up their promises in the academy to serve as a reminder of their decisions.
Tuesday was spent learning about the vocational training and micro-enterprise that Lemonade International is partnering with La Limonada, understanding the history of Guatemala that lead to the establishment of La Limonada, and experiencing some God-incidences in the community. During the vocational training gathering, we met three amazing women, Beatriz,* Sara,* and Ana.* It was a beautiful time spent listening to the stories of these women's lives and how this training was helping them provide for their families as well as growing their relationship with God. We shared laughter, tears, and our love for the Lord.
During a home visit on Wednesday, we met a young woman named Mariana* whose brother Henrique* was in maximum security prison, experiencing a medical emergency without receiving the necessary attention. Just as we were going to begin praying for the Lord to intercede in the hearts of the prison guards that they would exhibit mercy on Henrique's medical need, Henrique sent Tita a message asking if she could call him. Tita called Henrique, we put him on speakerphone, and prayed for his needs. What a blessing that we were able to love on him while he was in prison. After we hung up the phone, Tita told us that Henrique was the partner of the woman, Ana, that we'd met the day before. We all thought, what an amazing coincidence, but Tita encouraged us to think of it as a God-incidence.
Wednesday evening was spent throwing a house party for the children at Mi Casita, who have been placed in the safe home for several different reasons. I didn't know how they were going to respond to us, but that night was filled with creativity, beautiful laughter, brilliant smiles, and an opportunity to pour out love on these children the way our heavenly Father pours out his love on us.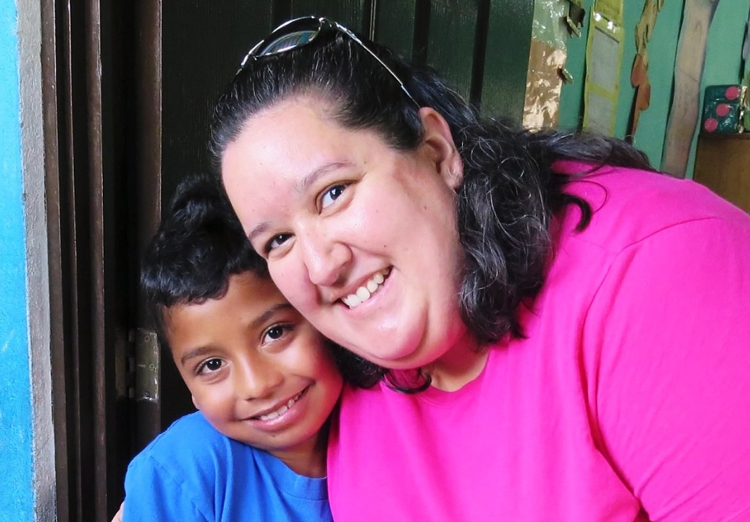 On any vision trip you think of all the ways that you're going to do great things for God, but I neglected to consider the way God was going to use this trip to change me. While in Guatemala, I sponsored a wonderful boy named Donovan and was able to meet him the last day we were in La Limonada. I left Guatemala feeling a sadness, as though I was leaving family, praying that I wouldn't forget the wonderful Spirit-breathed encounters of this week, and praying fervently that I would continue taking the steps to make changes that would draw me closer to the Lord as a result of these encounters. I look forward to going back and to continue on this journey that started all by saying yes to the Holy Spirit.
– Kim Ortiz
We invite you to consider being part of a short-term group in 2014. See our remaining open dates here.
* Names have been changed to protect the identities of these men and women.
Post a Comment or Prayer