Give Christmas is an opportunity to come together to work for the peace on earth that Jesus came to bring – starting with La Limonada, a community dominated by deep poverty, gang culture, and violence.
Our goal is to raise $80,000 this Christmas. These essential funds represent practical gifts that equip the children, youth, and teachers of La Limonada as they approach the new school year. And as of today, we are 43% of the way there.
We have exactly two weeks left to reach this goal in order to begin another year.
And we need your help to give education in 2016. If each of you committed to raise $250 by lending your voice, we could reach this goal.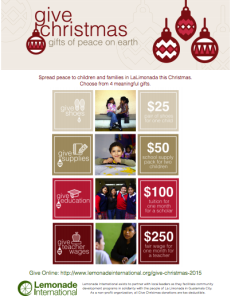 There are two easy ways to lend your voice and to allow others to experience the joy of giving Christmas to the children and families of La Limonada:
1.Help spread the word!
A flyer is available for you to print and share with your small group, friends, and community. Donation forms are also available to hand out.
Post these flyers on the bulletin board at your local coffee shop, include a stack at the information table at church, hand them out to friends at your next holiday party, or find other creative ways to share about this wonderful giving opportunity.
2.Start your own personal online fundraising campaign!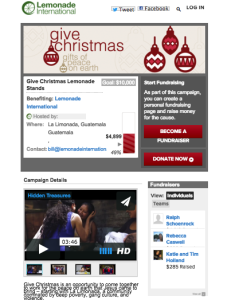 Challenge your friends and family to join you in focusing year-end giving on Give Christmas for the children and youth of La Limonada.
Use our online tool to create your own personal fundraising page to creatively name, add photos, and share what La Limonada means to you.
As you anticipate the birth of Jesus, and as you reflect on moving from one year to another, we hope you will choose to extend these gifts to children and families hoping for the opportunity to build a peace-filled tomorrow.
Post a Comment or Prayer