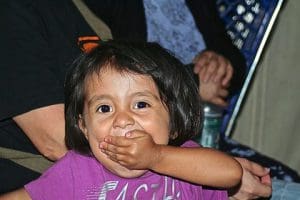 Do you want to impact the life of a child living in poverty? Do you want to inspire hope in that same child's heart? You can be the one who dramatically changes one child's life forever.
Here's how:
2. Choose a child to sponsor from "The Kids" section.
3. W
rite down the child's name and birth date.
4. Support the children and our work in La Limonada with $35 or more monthly.
5. Enter the child's name in the "Comments" box on our Donation Page.
Through our child sponsorship program, individuals and families have been able to establish and build personal relationships and connections with a specific child (or children) that is being reached through our schools in La Limonada.
The children consider this a very special relationship and refer to their sponsors as "Padrinas" (which translates to "Godparents" in English). These relationships have, in turn, created the possibility for people here to regularly pray for and communicate with the children there.
As you may know, there are many heartbreaking stories of the conditions of the lives of the children and their families in La Limonada, and there is definitely a need to have people praying for them and encouraging them
Make a lifelong impact… sponsor a child today.
Post a Comment or Prayer