Many people are familiar with this Heraclitus quote: "Change is the only constant." In education, change is a word that is frequently used and a verb that is constantly practiced. Teachers are always reflecting, reviewing, and making changes to what once seemed to be the perfect plan.
This has been the way of thinking for our "School for Parents" in the academies in La Limonada. At the beginning of 2014, we took a new approach which focussed on student involvement. Each month, a selected class would present the value of the month in a creative way. Parents would attend with excitement and cell phones in hand, ready to take photos and videos of their child in action!
As the school year continued, we learned more about specific stories of abuse, neglect, and violence in the homes of our students. Throughout our meetings, teachers and psychologists would discuss the intense need for more consistent and positive changes within La Limonada homes. We can only spend a few select hours with the students, while they briefly turn their backs to harsh realities with their families. We decided to make "School for Parents" more frequent and dynamic, so that parents would have heightened interest and regular attendance. As of August, we started having two parent meetings per month, in each of the academies. As an incentive, we offered a "canasta basica" or "basic basket" to every family that attended each of the meetings.
With these new changes, parental attendance increased and remained consistent until the end of the school year. Parents participated in simple yet fun activities, such as finger-painting images of gratitude, putting together puzzles of empathy, and writing poems about integrity. Because of a more interactive and dynamic approach, more quiet parents began talking about their ideas, while tears and laughter filled the room as they shared their darkest fears and deepest dreams for their children.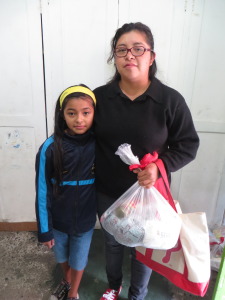 At our last "School for Parents" meeting, parents showed appreciation for their learning and excitement for the coming year. They showed even more gratitude as they received their "canasta basica," a bag full of basic necessities such as rice, beans, corn meal, and other special treats. We were speechless and beyond blessed to received all of these bags as donations through our partnership with Colegio Interamericano, a private school in Guatemala City.
Until recently, our connection with the staff was through teacher development, as a group of teachers lead a workshop for our teaching staff each month. After a presentation at the school, the parent council decided they needed to be involved, and eagerly responded to helping with this request. We are thankful for their dedication, and look forward to further exploring this relationship in the months to come.
School has come to an end for the students, yet the staff is actively preparing for the year ahead, as well as expanding our current "School for Parents" model and vision. We look forward to sharing about new experiences in 2015!
– Daniela Lombardo, Education Development Director
Note: This post first appeared on Daniela's personal blog, Teaching Here and There, where she regularly shares updates on what she's working on with students and teachers in our academies in La Limonada.
Post a Comment or Prayer