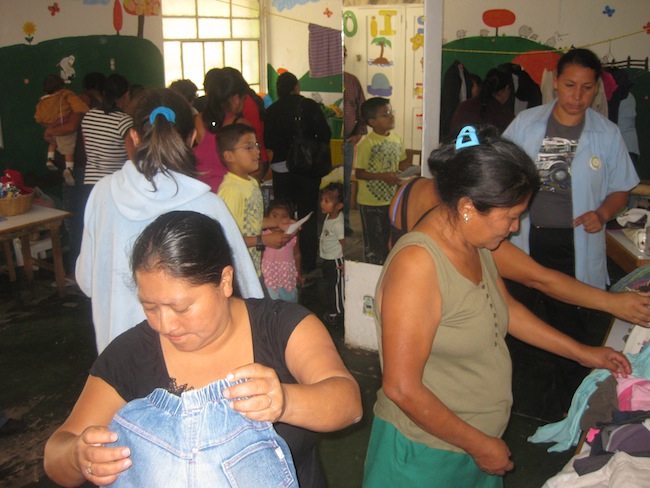 As I walked toward the Limón School I noticed a sign on the door that said, "Hot Dogs: Q5".  I asked Rebecca if the school was selling hot dogs.  She said, "Yes, it offers food to the community and provides a little extra funding for the programs at the schools."
As I walked into the school I noticed some recycling bins.  This was a little ironic to see, as the school sits directly next to the ravine, which is filled with trash and items that could be recycled.  Again, I asked, to which the response was, "Yes, we recycle now and take it to a place within La Limonada that pays us for what we turn in."  Interesting.
I walked further into the school and saw amazingly adorable t-shirts that have a lemon on them and others with children on them.  I learned that the school is selling them to subsidize the expenses to operate the schools.  The t-shirts were designed and made by local Guatemalans.  The next day I was blown away again to find out that  the Mandarina school has opened a thrift store.  I learned that all money made from the sale of the items at the thrift store goes back to the school.
I couldn't help but be impressed by the resourcefulness of the teachers and leaders at the schools.  We have great support from the US, but it is so incredible to me to see within the people of the La Limonada community giving back as well.  People who have very little are willing to go to the school to buy hot dogs, take their recyclable items to the schools and purchase items from the school's thrift store as ways to give back.
This showed me that the schools have so much value in the community.  The community gets it!  They understand the importance of these buildings filled with children Monday through Friday.  They believe that those children deserve education, love and care.  If they didn't, they wouldn't be supporting these efforts.
I think this shows some very promising movement in the efforts being made in La Limonada.  I believe it will take time to see all wounds mended, all addictions squashed, all hearts joyful… but this is a beautiful part of that process.
-Sommer Wisher
Short-Term Groups Coordinator
Post a Comment or Prayer