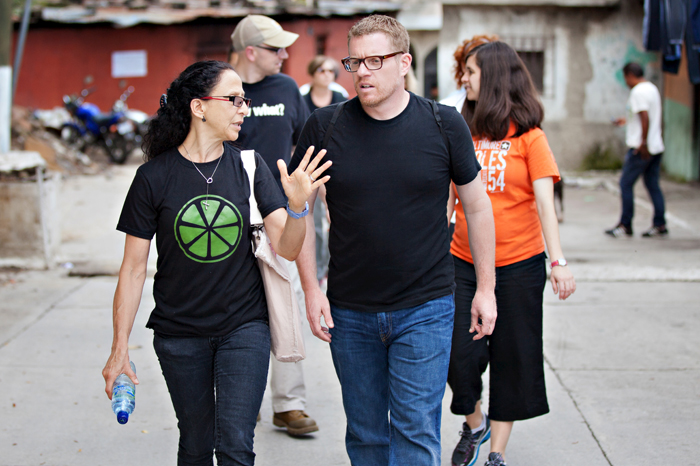 Every time I travel to Guatemala my schedule is full, but during my visit earlier this month, it was exceptionally so. As always, I visited our existing programs and spent time with the amazing leaders making them possible. During this visit we also hosted a variety of people who were exploring, for the first time, what God is doing in La Limonada.
Each day left me both energized and exhausted, but through it all I was reminded that relationships are (and must remain) at the core of everything we do. The people of La Limonada have invited Tita and her team to walk with them through their struggles and joys, and by extension, have also allowed us to share in the stories of their lives. This in turn enriches the lives of us all.
Because a lot of exciting things happened during this visit, I want to take a moment to share some of the highlights with you:
We hosted Lindsay and Marcelo Shupbach, who spent time with teachers at both academies and listened to their stories. Lindsay, who we'll properly introduce on the blog very soon, will be joining the stateside team as an unpaid sponsorship coordinator and education consultant.
Board member Todd Hiestand visited again, along with longtime supporter and sponsor Josh Casella.
We had a budget meeting with the Vidas Plenas administrative team, a business advisor, and Todd Hiestand, who provided vital board member input. This important half-day meeting gave us the opportunity to discuss our finances in detail and to consider our vision for the future, which we're happy to announce includes plans for a third academy in El Esfuerzo, the barrio in La Limonada where Otto's shoe shop is located. This academy is slated to open in early 2014, thanks to the private fundraising efforts of two generous donors. We'll share more news about this in the coming weeks.
We hosted Silent Images photographer David Johnson as well as Emily Sexton from Em Grey Photography in Raleigh. Thanks to their great work, we're planning to have a new promo video and a whole new batch of photos on our website by the end of the year. We love what we've seen so far, and we can't wait to share it with you.
We hosted a group from Forest Hill Church in Charlotte, which is exploring the possibility of a partnership with us. We're grateful that Forest Hill has invited us to be part of three weekend services at their South Park campus on November 2 and 3, where people will be invited to sponsor children and support our work in La Limonada in other ways.
We had a good meeting with Dr. Stephen Patrick from HELPS International to explore the possibility of a partnership. Together we visited homes of friends and neighbors in La Limonada who are suffering from various illnesses and ongoing medical conditions. We're eager to see how the partnership will develop, particularly the possibility of providing access to a pediatric hospital.
We finalized plans with Joel Aguilar from Center for Transforming Mission for our Urban Mission Experience internship program. We'll share more about this partnership before the end of the year.
Finally, we picked up custom coffee bags from Willy and artisan keychains from Cristian for the special limited edition package from Full Circle Coffee Project, now available online through Jubala Village Coffee.
During this two-week trip, I thought of you—our friends and supporters—often. I was reminded of the great honor it is to represent you to the people of La Limonada, who are truly grateful that you have chosen to join them in solidarity through your love, prayers, and financial support. Thank you!
– Bill Cummings, Executive Director
Post a Comment or Prayer