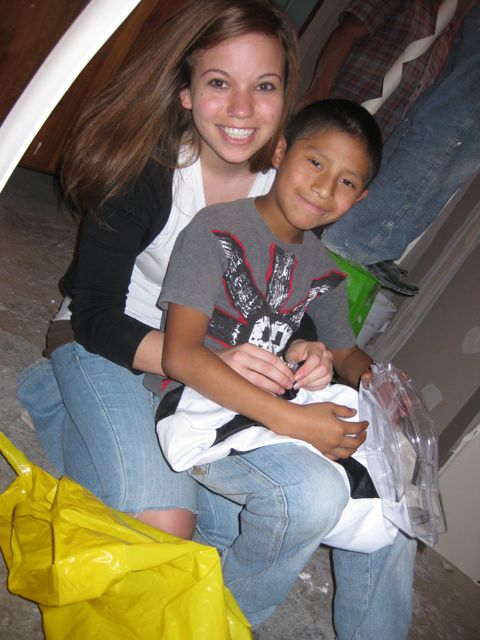 Rebecca Gant is the newest addition to the Lemonade International team. She arrived in Guatemala City on Monday – the day after her graduation from Olivet Nazarene University.
We first met Rebecca two years ago while she was serving for two months in La Limonada during her summer break. We learned that she was part of the Vineyard Central community in Cincinnati, OH – where we were beginning to build some strong relationships. When we saw Rebecca's passion for the people of La Limonada, it immediately felt like she was part of the family.
We have kept in touch over the past couple years. Then when we had a need for a person to lead our child sponsorship program on the ground in La Limonada, Rebecca was the perfect fit. For those of you who sponsor children with us, you will be getting to know Rebecca in the coming weeks and months as she works together with Cherie and Leah.
We're thankful to have Rebecca as part of our team and we're grateful that she'll be devoting her life to serving in La Limonada.
More about Rebecca:
Interests and Passions: I like cities, kaleidoscopes, and wind chimes. I write and make lists probably more than I should. I'm passionate about unity and solidarity of the people around us and the people we'll never meet.
Family: Mom, Dad, and Sisters, Lindsey and Michelle. Brother-in-law, Andrés.
International Experience: Mission work in Argentina, Brazil, Paraguay, Costa Rica, Mexico, Canada and Spain. Studied abroad in Spain for four months and traveled much of Europe and some of Africa. Other various trips including two months working with Tita in Guatemala City (2008). Mostly working with kids and orphans, facilitating mission trips, and construction.
Education: Bachelor of Arts in Spanish and Minor in Sociology from Olivet Nazarene University (Chicago, 2009)
If you would like to support Rebecca as she serves with us in La Limonada – go to our Donation Page – then select the "Support A Team Member" Fund and "Rebecca Gant" from the drop-down menus.
Post a Comment or Prayer