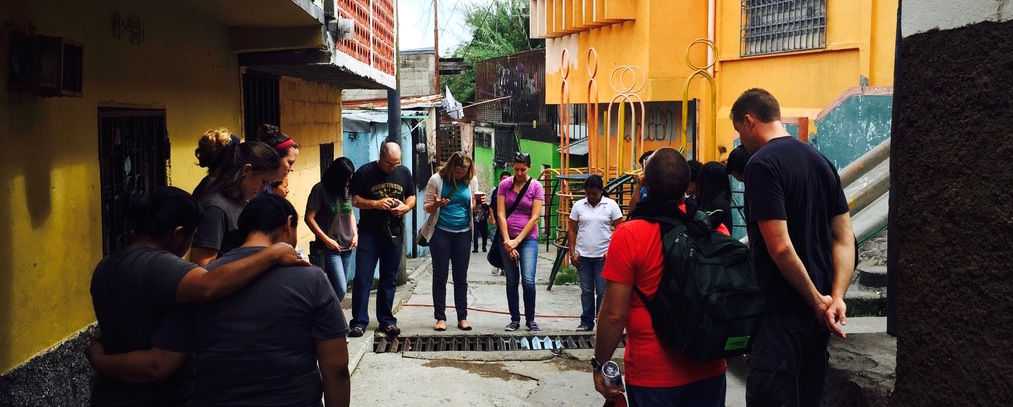 Names have been changed to protect the family.
The prayer walk comes to a halt. They have reached the place where blood was spilled days before. Life was taken at the hands of frustrated teenagers with guns in their hands and retaliation in their hearts.
Prayers spill out as the group cries, "Lord, end this suffering. Hear our cries for mercy and justice. End the violence."
Eber was only 19 years old when the bullet took his life. He had already witnessed and participated in so much evil. He had given in to so much anger and pain. Maybe some even thought his death was justice for his past sins. After being shot last year and losing a brother to the violence, he had made the decision to turn his life around. He wanted to follow Jesus and struggled to turn from the well worn path of gang life. He did not want his mother to lose another son.
Witnessing his death awakened the trauma in his cousin, Elizabeth, who was in therapy with our psychologist after losing her own brother nine months ago. She repeated over and over the details of the fatal shooting. Trauma had gripped her heart.
And while the family grieved their loss at Eber's funeral, the same ones who took his life came for his brother Carlos. Mothers, neighbors, children, and other family members witnessed his death.
Claudia, Eber's mother, has lost three sons in less than a year. Her heart is broken. How can she face this kind of suffering? What words can our psychologists give her? What will fill the hole inside her?
Through a special offering for two months of salary, Claudia has been given a job in one of the academies. While her help with cooking and cleaning will be of great assistance to the team, the purpose is not simply giving her a job. It is the opportunity to step away from the grief and have a reason to keep on living. She will be surrounded by a team of people who love and embrace her as a sister in Christ.
Claudia is ready to help others. She wants the children in the academies to have a different future than the dead-end her boys saw ahead.
Tita put it best when she said, "Deep treasures are found in times of deep suffering. We are present with Claudia, and that is a beautiful miracle."
– Katie Hoiland
Post a Comment or Prayer