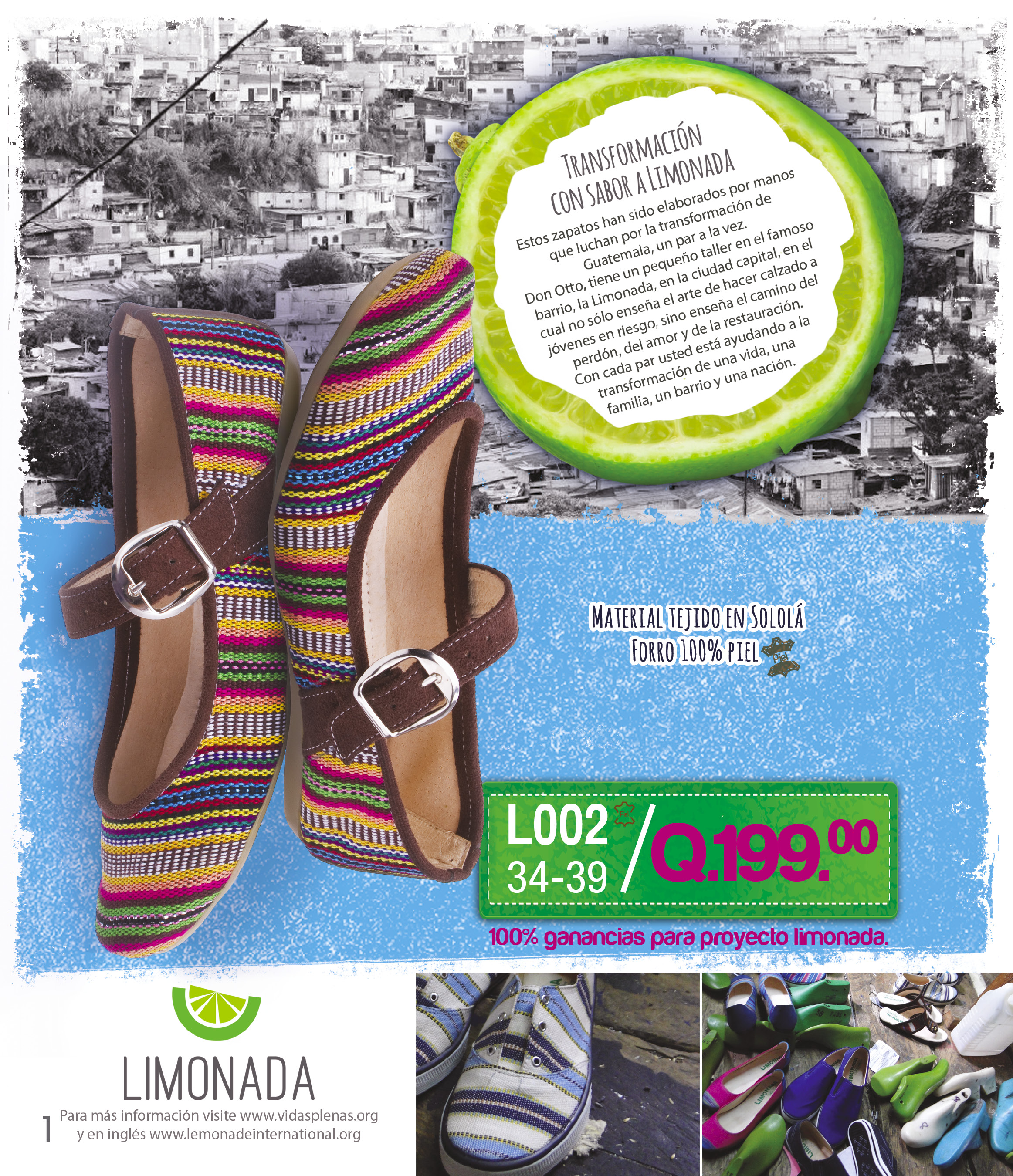 Many of you have been following the story of the La Limonada shoemaker, Don Otto, who has been making shoes for the children at the Academies as part of our Give Christmas campaign the past two years. Some of you have had the chance to meet Otto, and you may have even purchased a pair of his Limonada brand shoes from him.
You will be excited to know that, thanks to connections through some of our friends in Guatemala, two styles of Otto's shoes will be featured in the catalog of an apparel company in Guatemala and they will also be sold at four of their brick and mortar stores in Guatemala City!
As you can see above, the catalog promotes La Limonada and shares about Otto's life and his heart for the community. Here's the translation of what's written in the catalog:
These shoes have been manufactured by hands that fight for the transformation of a city, one pair at a time. Mr. Otto, owns a tiny workshop located in the infamous ghetto "La Limonada" in the heart of Guatemala City, in which he not only teaches the art of shoemaking to at-risk youth, but shows the way back to forgiveness, love and restoration. With each pair, you are helping transform a life, a family, a neighborhood, a nation.
Each pair of shoes will come with a postcard displaying the beautiful artwork of Otto's son, Cristian. The following will be printed on the postcard:
Cristian Alonso is a bright, smiling, huge-hearted young Guatemalan. Having grown up in a difficult context, in the midst of poverty, violence and gangs, everything pointed him towards the idea that nothing good could come out of his life. He grew up believing that, and he eventually got involved in a gang. But who would have guessed that a bullet in his spine would produce life? As a result of being wounded in a gang related shooting, Cristian was paralyzed from the waist down. Even though his legs cannot take him running, his heart flies with ideas, and his eyes and hands connect to portray feelings in full color. As you hold this postcard in your hand, you must know, that Cristian´s most important quality is not his artistic ability, but his courage. He chose to forgive his wrongdoers, and now he works at the workshop alongside his father, Mr. Otto, handcrafting the Limonada shoes.
We're grateful to God for the doors of opportunity that have opened for Otto and his family! If you live in Guatemala City and you'd like to know how you can purchase a pair of Otto's shoes please contact info@vidasplenas.org.
Post a Comment or Prayer