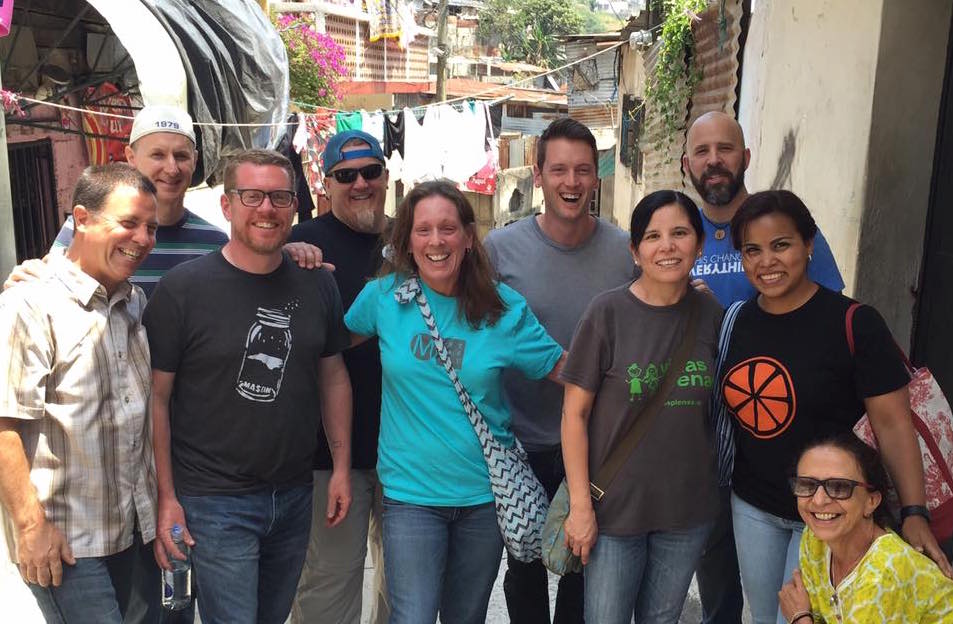 Today's guest post was written by Dr. Drew Moser, an adoptive dad of a Guatemalan-born daughter and Dean of Experiential Learning at Taylor University in Upland, IN. He was part of a service-learning trip to La Limonada in April 2016.
_
The two young men listlessly, slowly looked at each other. "N"* quietly muttered, "No se" ("I don't know"). "T"* nodded sadly in agreement.
It was a crushing response to what seemed to me as an innocent, hopeful question. One I actually posed to the young men: "What do you hope for your future?" It's another form of the common "What do you want to be when you grow up?" It's a question that in my world is full of wonder, hope, and promise.
And yet, to "N" or "T" this was a question full of despondency, hopelessness, and resignation. Teenage boys left to fend for themselves, they could see no future. Their parents died awhile ago, leaving them to the streets of La Limonada.
No school. No job. No hope.
So there they sat, on their bed in their family's stifling 2-room home. As one who has spent a career with teens and college students, I was at a loss. I'm used to helping young adults connect the dots of their lives in a coherent, purposeful manner to realize their potential. But with N and T, it was hard to see any dots at all. The only way they could scratch together some sort of living was through crime. And by my observation, they weren't very successful at it. Their only evidence of any possessions of worth were the clothes and hats on their bodies.
These appearances seemed intent on sending a desperate and forceful message: "Despite the pain, we're tough and we're strong and take care of ourselves."
What our small U.S. based team learned in our time in the community was that N and T are not outliers. In our days following in the footsteps of the good people of Lemonade International and Vidas Plenas, I talked with countless others who carry similar stories of pain. It doesn't take long before this once lush river valley feels like a desert canyon; a dry and weary land in desperate need of a good and long rain. In such a valley, the work of the team in Guatemala can feel like one tiny drop in this parched land. How does one small nonprofit restore the plight of the approximately 60,000 people who call La Limonada their home? Where do you possibly begin to wrap your minds and hearts around the crushing cyclical poverty and all it mercilessly brings?
In our team's rich, beautiful, and brutal time in La Limonada, we could only see through a glass darkly. But we saw tiny, powerful "drops" fall onto the people and the place. Tita and her staff provide many things to the community: food, education, health services, and the like. These are all essential and good…and never enough to sufficiently address the overwhelming need. But what they lack in resources they make up for in love. I don't write this lightly. LOVE. It sounds trite, but I was witness to it over and over again. Their love has no limits because God's love has no limits. Where time and money run out, God's love rushes into La Limonada, through the Lemonade staff, like a good and gentle rain. Our time was marked not by our ability to bring solutions, or money, or resources. It was marked by the love that God pours onto His children in La Limonada through the investment of Lemonade International.
Many residents of La Limonada find an ironic, tentative comfort in the gangs that reign in their community. When the rest of society has turned its back, the gangs provide the only vestige of 'protection' they know. Yet I was struck by what the late Salvadoran Archbishop Oscar Romero called "The Violence of Love" that Tita and her staff arm themselves with in the community. When many resort to weapons and fear to protect and provide, the Vidas Plenas and Lemonade International staff, bring the Violence of God's Love, more powerful than any gun or knife. It's a love that acknowledges dignity and honor to the people of La Limonada.
Through our visit into their home, N and T were faced with these competing forms of violence: the one they knew (perhaps the only one they've ever known), and the one the Lemonade staff brings. As our U.S. based team struggled to find words of comfort and hope, one of our team member's innocently asked if they would join us in a planned gathering we had later in the day at McDonald's. A simple request with complex and dangerous implications. Tita gently explained to us that this wouldn't be possible for their own safety, so we offered the only thing we could think of: Could we bring McDonald's back to them? N and T perked up immediately and replied "Si, por favor!" (Yes, please). A dear staff member brought the McDonald's to N and T later that day. While our team was resting and reflecting upon the day back at the Lemonade Guest House, we received a text:
"When the boys got the McDonald's on Friday they were SO HAPPY!!! And N prayed for the first time ever… to thank God for the food… and to thank God for us because 'they kept their word… and they did what they said they were going to do.'"
A simple, awkward act of love. A mere drop in a desert. And yet, drops add up. They form pools of God's grace in the low place that is La Limonada. The long and loving work has created a pool into which the drop of a few fast food meals falls. The miraculous thing about drops in pools is that when they fall, they don't simply dissolve. They start ripples; ripples that extend far beyond the drop's initial reach.
This is the impact of the work of Lemonade International. This is the work we saw with our own eyes. The organization accomplishes great and essential things with food, education, and medicine. But their greatest work is sharing God's unconditional love. Love which makes such relief not seem like a simple handout; but programs and services that are infused with a long-suffering love; love that provides glimpses of the Kingdom here and now in a place there the kings of today wouldn't dare go.
But the team in Guatemala does dare to love…fiercely…violently…for the sake of their brothers and sisters in La Limonada and God's Kingdom. It's a powerful thing to witness; something I want to be a part of for the rest of my life. Will you join us?
-Drew Moser
*Names changed for their own protection and privacy.
Post a Comment or Prayer