As I look ahead to the Thanksgiving holiday and look back over 2014, I am overwhelmed by how much there is to be thankful for!
I am incredibly thankful to be a part of a relationally based organization that is primarily focused on people—rather than programs or projects. Tita and the team in Guatemala lead the way by providing an amazing example of what it looks like to be a follower of Jesus among the people of La Limonada. Their love and care for each other and for the people of the community is like a little piece of heaven on earth, and I am so thankful to be able to call them my friends.
I am grateful to God for the people of La Limonada and for the constant reminder they are that there is beauty in the midst of poverty and suffering, and that light overcomes darkness—even when it looks like darkness may be winning.
I know I can speak for our whole team when I say I am thankful for every one of you who sponsors children, scholars, and teachers. By doing so, you are providing vital support for the ongoing work of impacting young lives through the academies, the scholars program and the safe home over the course of the year. This work would not be sustained without your consistent and faithful support, and for that we are grateful.
I have also been amazed by what has been accomplished through the many great partnerships we are privileged to have with churches, businesses, and other nonprofit organizations. Through the collaborative efforts of each of these partners the impact of our work with the La Limonada community is multiplied many times over.
I thank God for our Board of Directors who invest their time, prayers, and wisdom as we seek to lead Lemonade International with integrity, focused on our mission as an organization.
Finally, I am deeply indebted to the Lemonade International team, each of whom serve sacrificially. It is an honor to work with each of them and to collaborate together as a team. There are days when this work is difficult, but they make the work fun, rewarding, and impactful.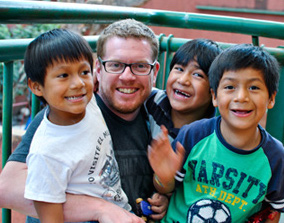 On behalf of the Lemonade International team, I want you to know how grateful we are for you and for the impact you are having in the La Limonada community. We look forward to another year of serving the people of La Limonada and to future opportunities to connect people from the US to the beautiful community we love so much.
Thank you for joining with us to partner with local leaders as they facilitate community development programs in solidarity with the people of La Limonada in Guatemala City.
With a full and grateful heart,

– Bill Cummings, Executive Director

Post a Comment or Prayer