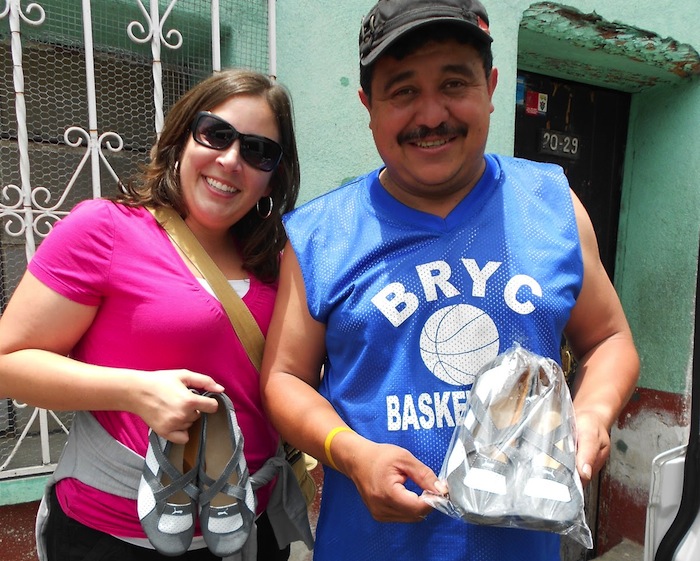 The following is reposted from Terry Bracey's blog. Terry and her family live in Baton Rouge, LA and she serves as our Director of Strategic Partnerships.
Earlier this year I introduced you to Otto, a shoemaker working and living in La Limonada in Guatemala City. After years of talking about the effects of shipping and bringing things like shoes from the U.S. to Guatemala and other countries and advocating for small local business owners in Guatemala, I was finally able to tell you about just one of the real people that I long to see succeed.
A couple of weeks after that post, I walked through La Limonada and into Otto's home which is also his shop. I walked up the steep, wobbly stairs to the area where he makes his shoes. I stood on a floor that shakes and moves with every step, praying that this wouldn't be the moment of collapse and looked over each tiny pair of shoes that he had created for children living in an orphanage in Guatemala City. The look on his face was priceless as I told him how happy and impressed I was with his work and then I asked him if he could also make a pair of shoes for me and a friend. Our visit was short. He measured my foot, made sure he knew exactly what I wanted, introduced me to his son, who is paralyzed from a gunshot wound, and his precious daughter and wife and I was on my way quickly, knowing that I would see him only briefly the next day when I would pick up my new pair of shoes.
Almost every day after that I slid my feet into those gray and white leather shoes knowing that they are not the result of a long assembly line or multiple machines. They are the result of one man living in La Limonada, just trying to make a living so that he can care for his family. I knew only of his son's story and nothing of his until recently. Now, when I slip on what have become treasures to me, I pray for Otto and his family and thank God for the man that he has become. His story really is one that proves beauty can come from ashes.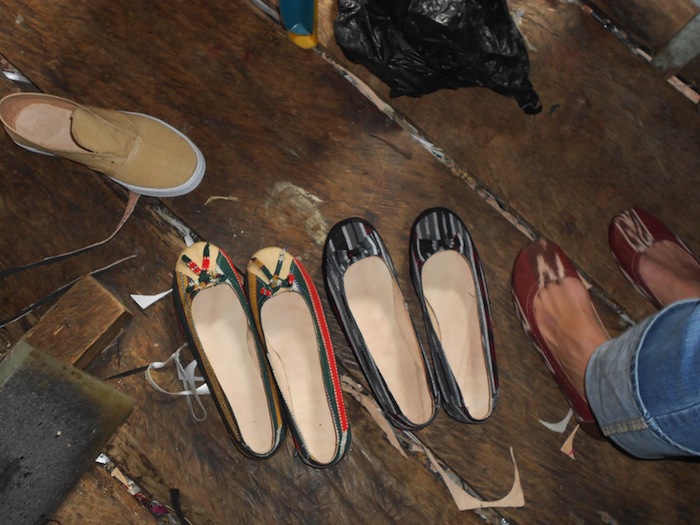 In October, I was able to spend a little more time with him. It's a given now that any time I am in Guatemala, I must have a new pair or two of Otto originals, so once again I made my way up those stairs and tried not to move too much while picking out my designs and fabrics.
…………………………………………
Read Terry's full blog post here.
…………………………………………
When we ask you to donate to supply a pair of shoes for a child in La Limonada and you generously do, you should know that it goes far beyond just one pair of shoes for one child. That pair of shoes is made by Otto or one of his helpers. Otto's family receives income from that. He is able to provide for them because of it. He is able to provide a job for someone that before knew only hopelessness. He is able to help them understand, maybe for the first time, what Christmas really is. And then they are able to take that message to their families and friends.
It is more than just one pair of shoes and one child.
That one pair of shoes (and imagine if we made it to the goal of 290 pairs!) makes an impact on an entire family and even on this community. It is hard to wrap your mind around just how much of an impact comes from this and I wish everyone could just visit and see it personally. You can't help but be transformed yourself.
You can Give Shoes today – impacting the life of children, Otto and his family… and a community.

Post a Comment or Prayer