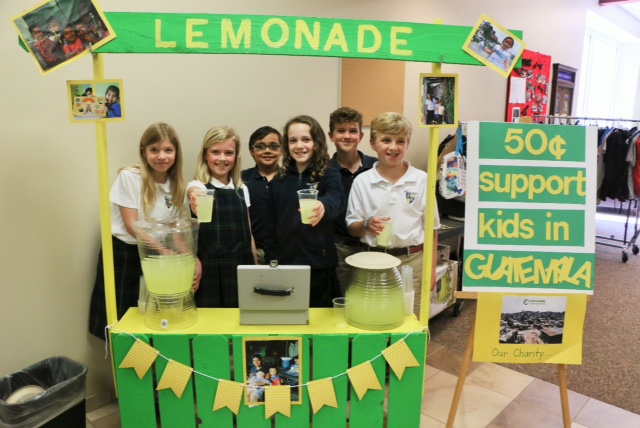 Tammi Palpant is a long-time friend of Lemonade International. She has visited La Limonada twice and started sponsoring a child after her first trip, about five years ago. She has also been a teacher at St. David's School in Raleigh, North Carolina for twelve years.
This year she engaged six of her advanced fourth grade math students in an educational and creative project that also supported vulnerable children in La Limonada!
Tammi shares about the project:
We designed and built a lemonade stand. The students wrote a business plan and sold cups of lemonade to the Upper School students during three 15 minute time slots.

They learned a lot of skills: measuring, fractions, decimals, money, marketing, design, engineering, hammering, painting, and even how to use a circular saw! They also learned cooperation, problem solving, and patience.

Most importantly, they learned about compassion and giving. They learned about a community called La Limonada through video and pictures and they wanted to help. They raised $147. They were very excited!

We prayed each day for the team in La Limonada before our work began, and each student took a picture of a child or a family so they can continue to pray.
Each of these students gave wholeheartedly, reminding us all that helping others can impact us just as much as those receiving the help. One student said, "The Lemonade Project was amazing. I love the feeling of helping others and knowing that the money we raised is going to a good cause."
It is incredibly inspiring to see supporters who use their talents and vocations to share the story of La Limonada. We're grateful Tammi's love and commitment to students extends from Raleigh all the way to Guatemala.
-Katie Hoiland
Post a Comment or Prayer