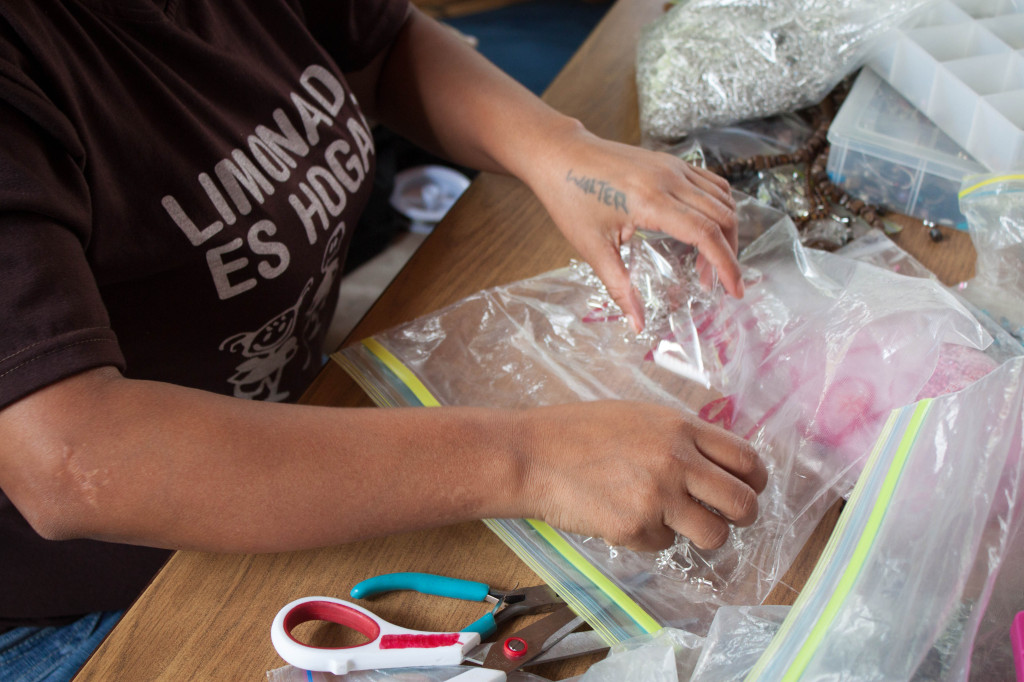 Miriam stumbled into the vocational training program without a single plan, or recourse for her future. Hers is a story of brokenness interceded by providence, again and again.
At 29, Miriam is a victim of longtime severe physical and sexual abuse, and a mother of 3, with one on the way. Just a year and half ago, in the midst of a deep depression, her thoughts turned towards suicide. "I thought, if God loved me, how could he have let so much happen to me," she remembers. In her darkest moment, she decided to take the bus that would pass along "El Incienso", a bridge famous for suicide attempts. Her decision would be altered by what would appear to be God's hand. For whatever reason, the bus took an alternate route that day, and ended up in front of Tita's church.
Tita met Miriam when Miriam was only 15, in the streets of La Limonada. Tita continually remained a presence in Miriam's life, and often offered to help Miriam, although Miriam bore the scars, brokenness, and feelings of worthlessness that accompany years of being abused. This combined with the inability to support her family developed in her strong sense of shame. Furthermore, she'd always felt beyond the ability to be helped or cared for. At the moment Miriam found herself on the steps of Tita's church, she broke down in tears. A woman passing by offered to console her, and when she found Miriam inconsolable, she began to pray for her.
Miriam believed that there was a reason the bus didn't pass the bridge that day, and when she encountered Tita again, she allowed Tita to pray with her. Tita invited her to the vocational training program, and although she had little desire to go, Miriam went for the first time, out of respect and love for Tita. It began as habit, to simply pass the time in a safe environment, but she grew to really love her work. Jewelry making is how she now supports her 3 children, and her work is becoming known in her local community. Friends and neighbors now stop by her home to inquire about her jewelry.
Through the vocational program, Miriam is able to not only provide for her family, but is provided a way to see and feel her worth. She continues to grow as a jewelry maker and to see light through what seemed to be impenetrable darkness. Miriam's story echoes the dejection and hopelessness felt by many, yet, hope through faith is the resounding refrain.
*Name has been changed to protect the identity of the person in this story
Post a Comment or Prayer