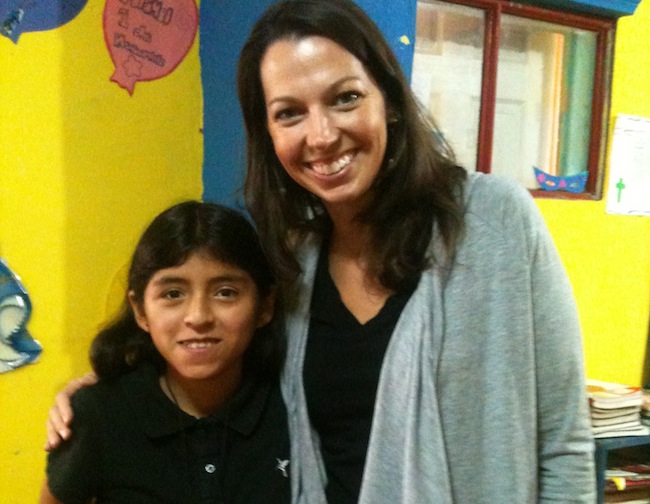 The poem below was written by Lemonade International board member, Rebecca Caswell last month on her flight home from Guatemala as she reflected on meeting her sponsor child, Alejandra.
Rebecca has a degree in Special Education from Converse College in Spartanburg, South Carolina, She and her husband RJ are passionate about advocating for children globally. They are adoptive parents of four children, two from Guatemala and two from Ghana.
Loved through photos
The first four were.
Then warmth, weight, fear, and one sided love.
Sweet heads were kissed.
Bottles warmed.
Hands stroked.
Tickles given.
Airplane ride.
Home.
Reciprocal love with time.
Safety.
Joy.
Then the 5th.
Known through photos.
A plane ride.
Diesel.
Honking.
Alleys.
Ingenuity.
Concrete.
Corrugated metal.
Butterflies.
But only the invisible ones inside.
Almost there.
To the haven.
Hopeful.
Hope filled.
Haven.
Instant recognition.
A one sided squeal of delight.
Tears.
Saw fear.
Tears.
Felt joy.
Clung too long.
Kissed the cheek as custom dictates.
Clung too long.
Felt fear.
Hers.
Mine.
No naps in luxury this time.
Or poolside beverages with tickles.
An urban hike.
Up. Down. Around.
Shy smiles in every alley.
Dogs in need.
Children wandering.
Glue bottles.
Backpacks.
Another turn.
Another alley.
Then smoke and darkness.
Immaculate.
Home.
Mama's approving nod.
Out to lunch.
Nervousness abounds.
Tears threaten to fall.
Pinching myself.
Maybe she is too?
Side by side.
Blessed translator.
Too many questions.
Not enough… What to say?
Art.
Not math.
Painting.
No boyfriends.
Futbol.
Not helado.
Pleading to eat more.
She's shy.
You're a stranger.
Let it be.
A question for me.
Will you be back?
She's happy then?
Approval for the stranger from afar?
Why do I need it?
Rain on the window.
Harder.
A sideways glance.
A smile?
Door slides open.
Hugs in the rain.
Clung too long.
Tears burn and choke.
Don't let her see.
Don't pity.
It's home.
She descends.
Prayers ascend.
I'm dry and privileged.
Rich.
Helpless.
Pleading.
Down she goes.
Into the ravine.
Laughing with a friend.
Tears.
Rain.
Falling.
No flight home.
Not for her.
Just for me.
She has a Mama.
I'm Madrina.
A sponsor.
Her sponsor.
Called to pray.
And love from afar.
And trust her Creator.
Our Creator.
Lord keep her close.
Can you spare her?
No pain for this one.
Please?
You can.
I know.
The Bible tells me so.
Post a Comment or Prayer