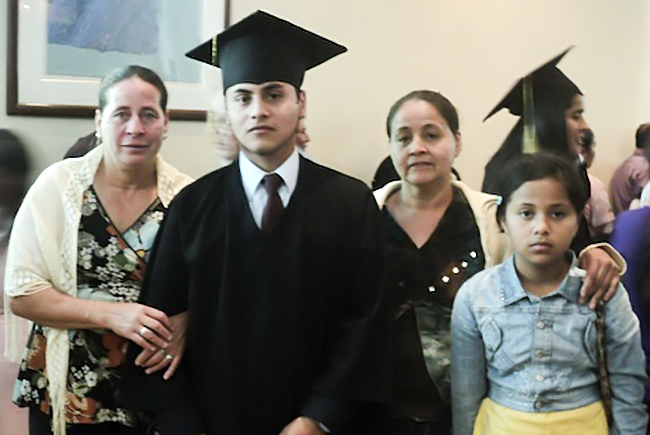 Mauricio first began attending one of the schools in La Limonada when he was 8 years old. The teachers invested personal time with him, helping him with his homework assignments from his formal school, and teaching him about God's love. Along with the other students, his birthday was celebrated, he was loved, taught, and encouraged. On the weekends, he missed being at the school in La Limonada so much he would often feel sad and lonely.
The scholarship program helped him purchase books for school, and a school uniform. Also, the new shoes and backpack that he received each year through Lemonade International wouldn't have come any other way.
Mauricio has now graduated from high school and is now seeking employment. He plans on attending university next year on the weekends to study business, while spending his weekdays working to help support his family.
He recently wrote this note to Tita:
Hello Sister Tita,

I am sending you this email to send you a photo of my graduation from last year. First I want to thank God because through you all he's blessed me with a scholarship. I am very thankful as well to my sponsors for having sponsored me and for having helped me out up until the end. I'm very happy because I could realize my goals and graduate.

Now that I've graduated I can help my mom and little sister to continue forward in life. I send you all an infinite thank you for your unconditional help. Sister Tita, may God continue to bless you in your life and what you do. One hundred percent of the time you'll be in my prayers.

Maricio Juracan
Our Scholarships Program is supported by generous donors who are making a difference in the lives of the young people of La Limonada. We are grateful for the generosity of everyone who is helping to change lives of people just like Mauricio.
Post a Comment or Prayer