Marcelina & Braulio Get Married
You never know what you are going to experience when you visit La Limonada. Sometimes you are witness to unimaginable heartache, but often you will experience pure joy. A group of eight from Charlotte, NC got a taste of that joy last week as they visited Marcelina and Braulio.
After visiting the Limón school, Tita wanted the group to visit with this precious couple. Marcelina and Braulio are one of those couples that grab your heart when you first meet them and over the years the staff and groups that have met them have fallen in love with them. It is impossible not to love them from the moment you meet them. Marcelina is 92 years old. She welcomes you into their tiny, but impeccably clean home with the sweetest of smiles that turns her eyes into slits and grabs your hands with hers and requires you to sit in her place because you are a guest in her home. She is as hospitable as one can be and always happy to welcome visitors. Braulio is twenty years younger than she is, but they are proof that age is just a number. Two people could not be more perfect for each other. Their lives are not easy, as is the case for most in La Limonada, but age and illness adds to the difficulty of life for them. Braulio is blind and Marcelina has multiple health problems as well as intense pain in her side and back that makes walking hard.
Braulio says, "She is my eyes and I am her cane."
They met in 1964 and have been together ever since. They joke with each other constantly and it is obvious that time has only strengthened their love for each other. You would never know when you meet them that they were not married.
Civil weddings in Guatemala cost more than many people can afford to pay. Boyfriends and girlfriends do not usually live together. If a couple moves in together, that usually means that they are committed to each other as in marriage. And so it has been with Marcelina and Braulio for almost fifty years.
When the group from Charlotte learned that they had never been married, the bilingual pastor who was leading the group suggested they have a wedding ceremony right there on the spot. Marcelina and Braulio were thrilled and so was everyone crowded into the room. One of the group members took off her scarf and draped it over Marcelina's head to serve as her veil while another grabbed the faded red artificial roses from the top of their broken refrigerator and handed them to the bride. Two chairs were set up side by side for the couple to sit in and as the ceremony began they tightly held hands.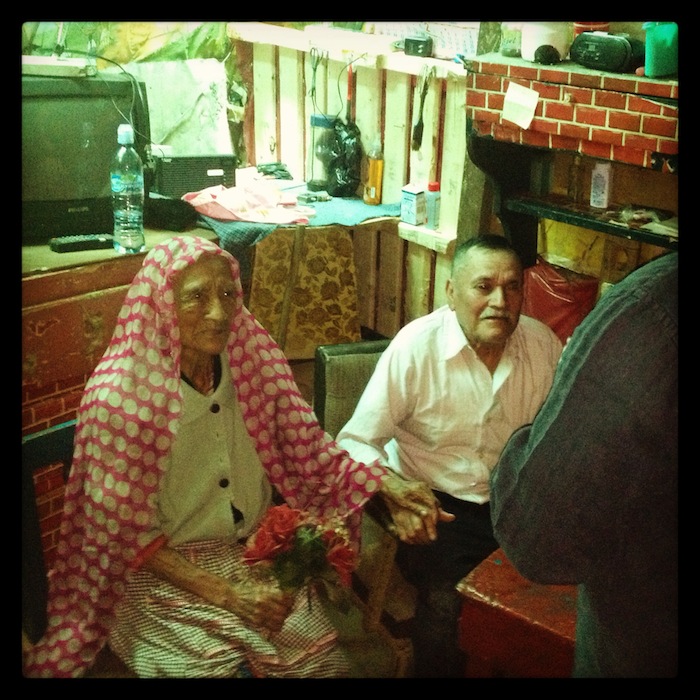 Braulio was quick to answer, "I do," when asked, "Braulio, do you take Marcelina as your lawfully wedded wife, to have and to hold…?" And Marcelina did not even let the pastor get through it before she gave her answer enthusiastically. They stood at the end when it was time to kiss the bride. Because Braulio is blind, Marcelina leaned in closely, took his face in her hands and kissed his cheek. The group prayed for the newlyweds and although it is not common for groups to give money directly to anyone living in La Limonada, they felt it was acceptable to give them a small monetary gift to allow them to go on a "honeymoon", which probably was a trip to the market to purchase a week's worth of food.
Two years ago, after being an atheist all of his life, Braulio made a decision to be a follower of Jesus as Tita prayed with him. She was also thrilled to be there to witness their wedding ceremony. What a joyous day for everyone who had the opportunity to share in this beautiful experience!
Post a Comment or Prayer