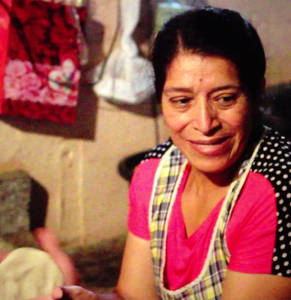 Lydia makes fresh corn tortillas in her small home in La Limonada, the largest slum in Central America. She grinds the corn each day and hand shapes each tortilla to be grilled, bagged, and sometimes delivered by her family members. They sell for 1Q for 4 tortillas, which is about 28 tortillas for $1.00 U.S. We were fortunate enough to taste them as she offered us warm tortillas fresh off the stove. With a sprinkle of salt and a squeeze of lime, Lydia's tortillas just make you feel better. There's a rhythm that fills the small space of Lydia's home. She and her daughter fall into the staccato pat-pat-pat as Lydia shapes each tortilla and hands them off to her daughter to place and then flip on the grill. Lydia is lightning fast, working hard to provide for her family.
The people of La Limonada are not lazy people. Many, like Lydia, are resourceful, hard working entrepreneurs, who use their abilities to provide for their families and community. Living in one of the world's most dangerous places is not easy, and society outside of this marginalized community has all but discarded them. As we return to our comfortable routines in the US this week, thoughts and images of our new friends in La Limonada will be on our minds, in our hearts, and in our prayers. We were all put on this earth for a reason. Me, you, and Lydia. We asked ourselves, why were we born into our situation? How well are we using the gifts and resources given to us? Look for a Lemonade Stand here on our site in the next few days. It's our way of putting into immediate action a response to what we experienced as we strolled the cement and corrugated metal labyrinth that is La Limonada. After meeting Lydia and other hard working members of the community, we would like to dedicate funds raised on our Lemonade Stand to offer loans to future business entrepreneurs of La Limonada.
Lemonade International's community development programs offer resources to residents of La Limonada. Their Micro-Enterprise program was created in partnership with UNC's Carolina Micro-finance Initiative to empower members of the community to start a small business. Training and support are made available to each member of the growing micro-enterprise program to establish and then expand their business.
You can also get more info about the documentary film we are producing at www.coffeeforlemonade.com.
Amy & Josh Allen – Coffee For Lemonade
Post a Comment or Prayer