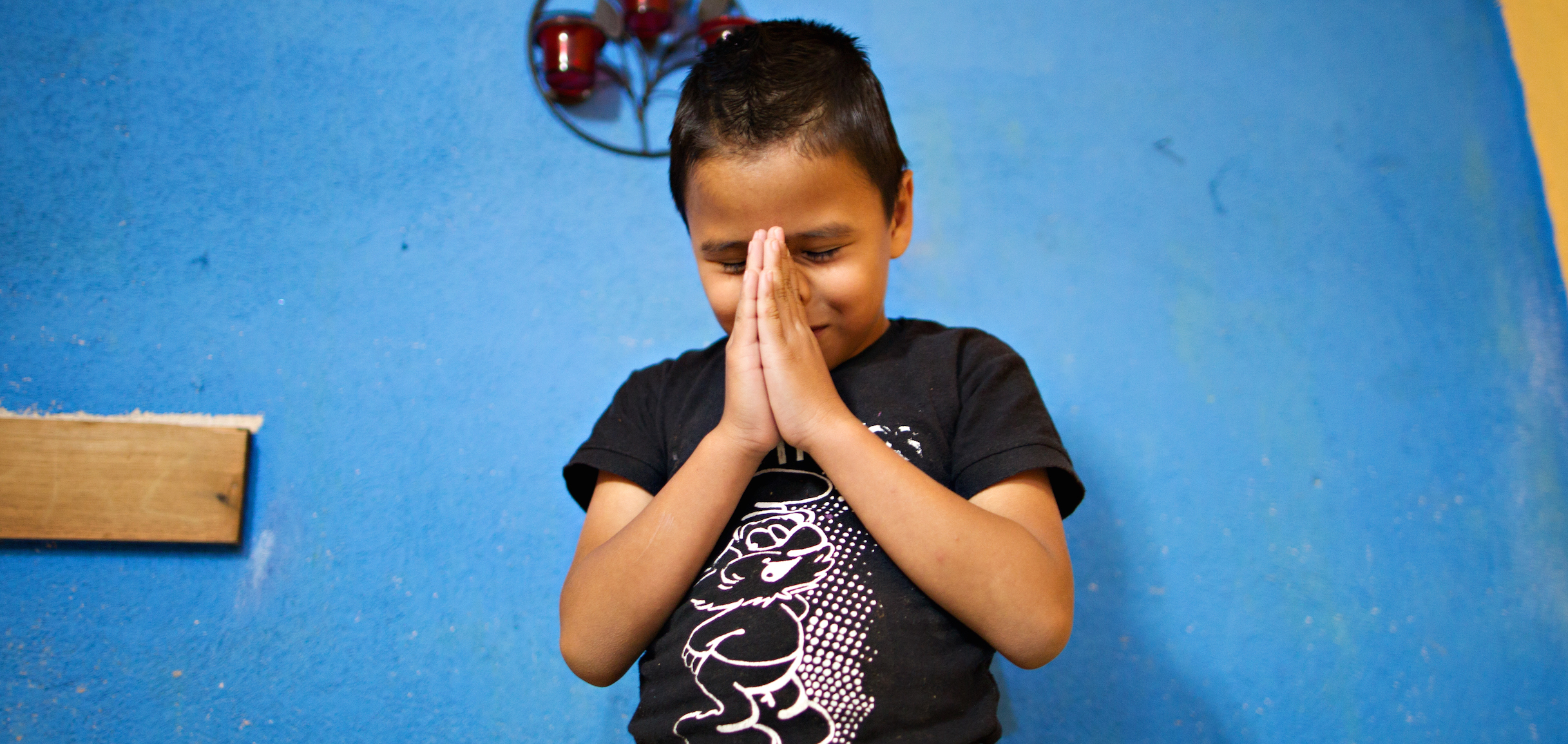 Today's guest post is written by Lindsay Stevenson, a faithful child sponsor and supporter of Lemonade International. She and her husband Luke have visited La Limonda with their church, Ekklesia in Raleigh, North Carolina. She blogs regularly at Little House Big World.
If you're a parent, you likely find yourself in the thick of daily practices like packing lunches, changing diapers, carpool lines, etc. I've often struggled with finding the balance between my desire to serve others globally while in this season of motherhood. It's easy to feel that you can't make a difference beyond the walls of your home, but with intention we can serve others and leave a mark of love on this world.
Lent is the perfect opportunity to invite our children to journey with us in caring for and serving others.
Lent is a 40 day period before Easter often marked with fasting or abstaining from something as a remembrance of Christ's own 40 days in the wilderness. It leads us into Easter remembering the sacrifices that were made on our behalf.
Among Christians there have historically been four areas of practiced observance at Lent:
Giving to the poor
Prayer
Fasting (abstaining)
Repentance
As you look for ways to make this Lenten and Easter season meaningful for your family I would love to share some ideas on how this could include the community of La Limonada. #LentforLimonada
Learn: Start by learning more about the work of Lemonade International and the community of La Limonada by browsing the website and watching the short Hidden Treasures video together as a family. Our connection and love for something often grows with our knowledge.
Pray: As a family, write down different areas of the community that you can pray for (such as teachers, families, the safe house, sickness, etc). Write these down on strips of paper and then put them in a jar. Each day or each week, pick one from the jar and pray together. While it may feel small, prayer is one of the greatest ways we can bind ourselves together with God and those we pray for.
Make a Reminder: If you are making prayer for this community a focus, set up a reminder in your home. Since La Limonada means "the lemonade," fill a bowl of lemons for your dining room table or make a picture of La Limonada the background on your family computer. These small things can draw your mind and heart to the community throughout the course of your day.
Sponsor a Child: Child sponsorship through Lemonade International has been one of the most rewarding things we've done as a family. I would love to encourage you to consider it as well. As we celebrate Christ's redemption and hope during the season of Lent, it seems fitting that we do something that can offer the same to someone in La Limonada. For more information, visit the sponsor a child page.
Collect Change: Most kids have a piggy bank or something along those lines, and they love adding to their small treasures. Encourage your children to collect their change or to find ways to earn money with the intention of saving it for the community of La Limonada. If you have multiple children, you could include some friendly competition of who can gather the most. Show your children you value their heart for giving by matching their amounts and donating the total to the Community Relief Fund.
Write a Letter: If you sponsor a child, writing a letter or making a card is a meaningful way to develop a relationship with the child you sponsor. Handwritten notes and drawings are treasured, but Lemonade International has made it super easy for you to do this online as well. You can even upload pictures! If you don't sponsor a child, you can still write a letter of encouragement. A letter to the staff or children at the safe home would be a sweet surprise. You can find the sponsorship guidelines and an address here.
Make a meal: Let your family experience Guatemala on their taste buds. If your family is not accustomed to eating meatless dishes, perhaps abstaining from meat once a week and incorporating a rice and beans meal would be a great way to let your family taste these ingredients that are staples for the people of La Limonada. For an authentic Guatemalan meal, try this recipe for Mirna's pepián de pollo. Delicious!
We hope that these ideas can inspire your family to include La Limonada in your practice of Lent and Easter. Let's continue to encourage and inspire one another by sharing pictures or ideas on social media using the hashtag #LentforLimonada.
– Lindsay Stevenson
(Photo by Silent Images)
Post a Comment or Prayer