Give Christmas 2014 is an opportunity to fill the holiday season with hope by providing practical gifts for students, scholars, and teachers in our academies—all in an effort to ensure opportunities for the future leaders of La Limonada to escape the cycle of poverty and injustice.
Our goal is to raise $90,000 to provide essential shoes, school supplies, tuition, and teacher wages in our three academies. And we need your help!
There are two easy ways to lend your voice and to allow others to experience the joy of giving Christmas to the children and families of La Limonada: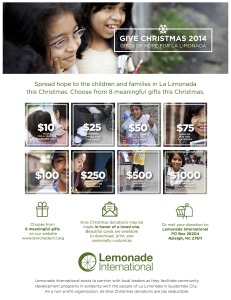 A flyer is available for you to print and share with your small group, friends, and community. Post these flyers on the bulletin board at your local coffee shop, include a stack at the information table at church, hand them out to friends at your next holiday party, or find other creative ways to share about this wonderful giving opportunity. Download here.
Start your own personal fundraising campaign!
Challenge your friends and family to join you in focusing your year-end giving on making Christmas full of hope for the children and families of La Limonada. Whether you decide to challenge others to give by running a marathon, dying your hair, hosting a Christmas cookie exchange instead of Christmas gifts, or simply as way to collectively give in the spirit of the season, you'll have your own fundraising page to creatively name, to add photos, and to customize. Get started here.
Together, we can all spread HOPE and Give Christmas to the children and families in La Limonada!
Post a Comment or Prayer