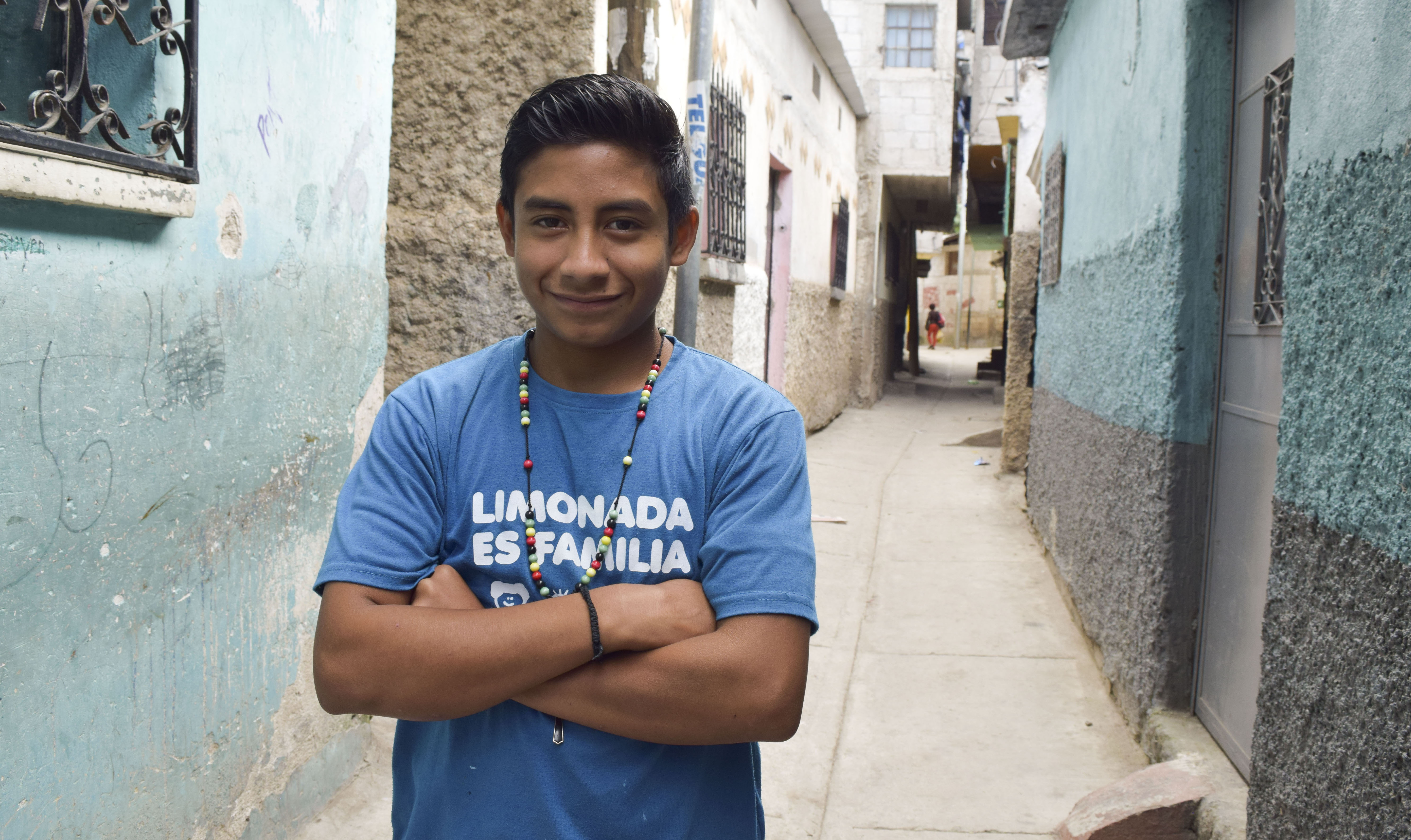 FaceTime buzzed on my computer. It was time for my interview with one of our youth volunteers in La Limonada. Lizza and Lucia appeared on the screen, along with a 15-year-old named Jeffrey. They were sitting in a classroom inside the Limon academy just after breakfast.
A little shy, as most teenage boys are, Jeffrey's kind eyes lit up as Lizza translated my questions.
Jeffrey told me he began attending the Limon academy when he was 11. He loved coming to his classes and having a place where he belonged each day.
When he graduated from the academy, he had the opportunity to join the Scholar program to continue his studies past the sixth grade. He is now in seventh grade and hopes to study accounting when he reaches tenth grade, the year he will be expected to choose an area of focus at the high school. In a community where there is so much hopelessness, this is a pretty amazing dream!
While scholars enjoy monthly meetings together, they are receiving scholarships to attend high school or vocational programs outside the community. And for most of them, their studies are only for half the day.
Jeffrey and his peers wanted more. They approached Lucia, the principal of the Limon academy, asking her to lead a youth club. With her many responsibilities, she could only offer them Friday afternoons to study the Bible together, share, and build community together.
Lucia understood their desire to be in the academies throughout the week. She knew their home situations, the lack of options on the streets, and opportunities to get lost in drugs and vandalism. She knew the pull and the risks of boredom. She knew they longed for a positive place to spend each day and were still hungry for a solid, nutritious meal. So she offered them a choice. They could come each day as youth volunteers – serving the children, carrying donations, helping kids with their homework, organizing the library, making home visits with the teachers, and generally doing whatever else might be needed.
By choosing to become a youth volunteer, each one must understand the rules and commitments required to come back to the academy as a leader. They must be good examples for the children looking at them as role models. They cannot wear clothing associated with the gang members. And they must do each job thoroughly and with excellence.
"I love coming to share with the kids and being able to help," Jeffrey said, "In this place you can find harmony and peace."
Without Lucia and the other role models in the academy, Jeffrey could easily look at the muchachos on the street. He could choose to dull the pain he has experienced and silence the questions about his future with drugs. He could give up.
"I know many of the little ones here have bad parents. Being in the academies is a good choice for them," he said, "They can escape the risk of being out on the streets. They can change our community."
Lucia and the team have seen incredible transformation in Jeffrey's life since he has become a volunteer. Last year they noticed he was going through a very hard time. He didn't want to study any more and had lost hope in the future. He struggled to make good decisions. But Lucia would not give up on him. She continued to pray and reach out to him. She saw the deep compassion, kindness, humor, and deep thinker behind the pain in his eyes. And Jeffrey responded. He now comes each day to help before his afternoon classes.
"There has been so much change in him. I can see his character growing each day," Lucia said, "He wants to make good decisions and asks me to pray for him."
As our time was coming to a close, I asked Jeffrey how we could pray for him and the other youth volunteers. He replied, "Many of the youth here have tried drugs. They ask God to help them to stop, but it is very hard to say no. But God can help them to leave the bad things behind. Pray for them to continue their studies and for understanding of what they are learning. And most importantly, pray for strength for Lucia to keep supporting us!"
After I clicked "end call," I said a prayer. I prayed for Jeffrey and his specific requests. And I praised God for the safe space the academies provide. Six youth choose to spend their free time coming to the Limon academy each day. They crave a place that can afford to keep the lights on. A place with laughter and joy. A place where the love of Jesus is embodied for them, encouraging them to choose what is good for their lives and futures.

-Katie Hoiland
If you would like to see this kind of impact multiplied, please consider a donation to help launch the fourth academy in a new neighborhood!
(Photo by Rebecca Gant)
Post a Comment or Prayer