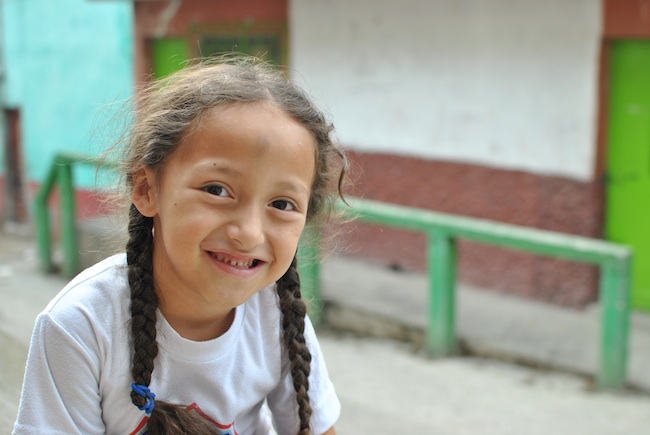 Allison Fernanda is an energetic six year-old from La Limonada who attends the Limon School. She constantly has a smile on her face and will run to greet anyone who walks through her classroom door. She says she loves going to the school because within its walls she has learned to love her neighbor and share her life with her friends.
Thanks to our scholarship program, she attends formal school in the mornings then she attends the Limon School in La Limonada in the afternoons.
The school provides a warm meal and vitamins, and each day a loving teacher awaits her arrival. In the afternoon, she is one of seventeen six and seven year-olds in her class. Maria, her teacher, provides the class with holistic education – the children learn everything from math to Bible to hygiene.
Allison is the oldest of three children – and a daughter to a single mom. "God is our Daddy," she says, when asked who He is.
Allison says that although she learns in her formal school, she prefers attending the Limon School in the afternoon because there is more friendship and it is better than other places she knows. "I like to pay attention in class. When I grow up I'd like to be a veterinarian or a photographer. I'd like to help my family, too. It's nice because my best friends live in La Limonada and they attend the Limon school, too."
Without an opportunity to be educated and mentored, the children of La Limonada are often neglected and abused. By their teen years the boys are lured into gangs and the girls become pregnant without the means to care for a baby. Children like Allison are provided with an education and hope for a better life through God's love.
Through The May Campaign you can make a difference in the life of a child just like Allison. Shared Sponsorship is an opportunity to partner with us to invest in the lives of the children we serve by creating sustainable support for the schools in La Limonada.
Recruit a family member, friend or coworker to share the sponsorship of the child or teacher you sponsor or increase your current monthly donation to $70 ($100 for teacher sponsorship).
Go to the Sponsor a Girl, Sponsor a Boy or Sponsor a Teacher page to find the child/teacher you sponsor, click on their photo and share their personal page with the people you know and ask them to join you in sponsorship or Contact Us to let us know if you would like to increase your monthly gift.

Post a Comment or Prayer