Every day in La Limonada, we encounter needs among vulnerable individuals and families that are unpredictable and urgent. For years, the team has cared for those in difficult circumstances when designated funds were donated to meet specific needs. Now we have a way to extend mercy immediately. It's the Marcelina Fund, named in honor of a gentle hero who recently passed away after a long and self-giving life.
Janina, our community health advocate, helps to carry on Marcelina's legacy. She regularly visits many of those who are living in difficult circumstances, offering medical expertise, counsel, friendship, and practical items. "Mercy bags" are compiled and handed out to those who are in need of immediate relief.
We want to share the stories of three friends who represent the kinds of needs met by the Marcelina Fund every day.
Baby Delmy*
My baby girl has lymphoma. A swollen face prevents her from eating on her own, so she relies on a tube for food. She is very sick and needs an MRI, surgery, and chemotherapy. She is at the hospital and I go to be with her, leaving my four other children at home. There is a small bed for my child and a hard chair for me to sit next to her. Thanks to your kindness, we receive help with her medicine. Pray for Delmy as we wait for surgery, for our family as we need patience to endure this difficult time, and for God's presence and peace.
Aging Jose*
I am over 80 years old and have been bed-ridden for eight years. My health is failing and I need a hip replacement. I have good days and bad days. When my wife passed away six years ago, a neighbor took me in. She tirelessly takes care of me every day, changes my sheets, helps me with food and medicine, sings to me, and reminds me how God has provided each day. Her family has sacrificed so much for me. I am grateful. Thanks to you, I have help with some of my medical items, soap, and food. Janina comes when she can to give me a sponge bath. Pray for my caretaker that she may remain healthy and strong enough to take care of me.
Wounded Carlos*
I lost my legs as a result of gang violence in the community at a young age. I have suffered with my wounds, bed sores, and constant dizziness. My family is loving and kind, but don't always know how to best take care of me. I have received bandages, gloves, medicine, and vegetables, and this help has been such a blessing. Janina brings these items when she comes to check on my sores and give advice on how to stay healthy. Please pray for my health.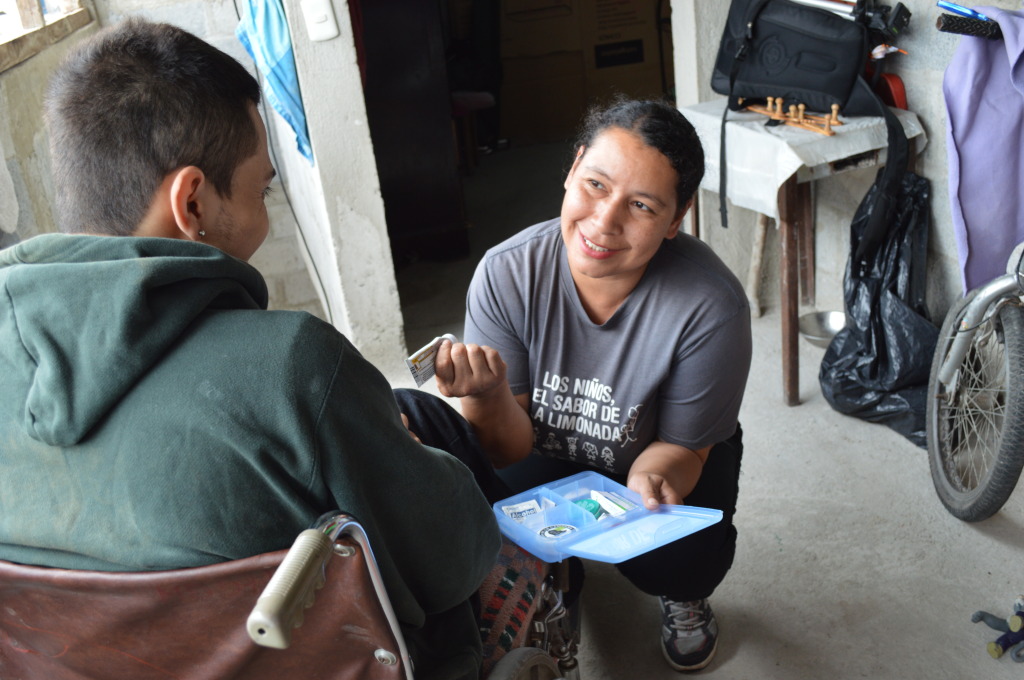 A New Way to Help
The home that Marcelina shared with her husband, Braulio, was long a place of warm hospitality. Even as she suffered from the chronic pain that accompanied her old age, and though Braulio is blind, everyone who spent time with them experienced kindness, friendship, and generosity.
When Marcelina passed away this spring, we knew we had to do something to commemorate her legacy. So we decided to name our mercy ministry in her honor.
This fund will respond with compassion to extreme needs, including:
Medical services (surgeries, cancer treatment, prescriptions, etc)
Adult diapers for the bedridden
Nutrition supplements for the elderly and children
Mercy bags (essential items which offer relief to those in greatest need)
Home repairs after storms and mudslides
Employment papers for those seeking a legal pathway to employment
Funeral expenses to assist families to bury their loved ones with dignity
If you feel moved with compassion and desire to contribute to the ongoing, urgent needs of the many with stories like those of Delmy, Jose, and Carlos, you can give a one-time or ongoing gift here.

* Names have been changed for the protection of the people.
Post a Comment or Prayer