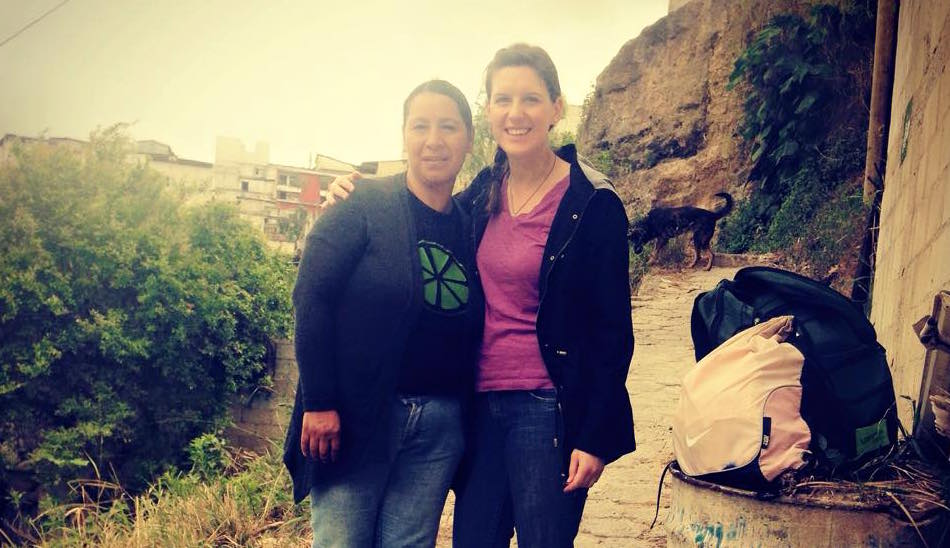 We're thrilled to introduce you to Sarah Zimmerman, who will be volunteering with us in La Limonada for two and a half months this summer. A trained nurse, Sarah will be working alongside our community nurse, Janina, visiting homes and offering tangible help to marginalized individuals and families. Originally from Wisconsin, Sarah was living in Chicago prior to becoming a traveling RN.
I asked Sarah to share about what she will be working on and why she's looking forward to this time in La Limonada:
From my first moments in La Limonada a few years ago, I realized I had entered a very special place. While I have seen poverty in the US and other parts of the world, I had never walked through with people who live this reality. I'm not sure what I expected, but the hope and joy that emanated from everyone I met was such a beautiful, moving surprise. Returning now for my fifth trip, I am continuously drawn to this community and the people I have come to love here. Oftentimes, I wonder who is teaching who the most. While many in the community have very little, their hunger and desire for positive change in La Limonada is infectious. This spirit has given me a deep desire to empower members of the community to make this positive change a reality.

As a nurse, seeing the enormous need for medical care in the community was initially extremely overwhelming. Going on house visits originally with Tita, and now with Janina (the community nurse!) and hearing the hard, heart-wrenching stories of so many in the community it was hard to know how to help and where to begin. I quickly realized that one the the most common threads within each story was that nothing had ever been explained to the patients we were seeing. Doctors would give them medications but not explain what they were for, any sort of side effects, and they had no base knowledge of any sort of preventative health initiatives because they had never been told. Realizing that knowledge is power, giving that power to people within the community is so important and so rewarding.

The second biggest need is the desperate need for good nutrition. The children are provided meals at the schools within the community, but branching this to their home life is difficult. Fruits and vegetables are readily available in Guatemala, but affording them can be extremely difficult for members of the community. Balancing the need for medications, school costs, food, and many other factors with a small income makes it hard for families to justify buying more expensive healthy food. This affects the children, but also many members in the community with diabetes, high blood pressure, high cholesterol and other health conditions that can improve with a good diet and moderate exercise.

These two needs are what I am hoping to focus on while I am here with the help of Janina. Janina has lived in La Limonada her whole life and received her nursing degree 20 years ago. Due to many factors, Janina had never been able to use her nursing degree until Vidas Plenas was able to hire her to work for the community she lives in and loves. Experiencing people's intense respect and love for Janina within the community has been humbling and beautiful to see. During this time I will be partnering with Janina, building up her nursing skills, and educating the community and Janina with her help. I am extremely excited and honored to be here in La Limonada and can't wait to see what these next few months bring!
Thanks Sarah for giving your time, skills, and heart to the people of La Limonada!
– Katie Hoiland
Post a Comment or Prayer