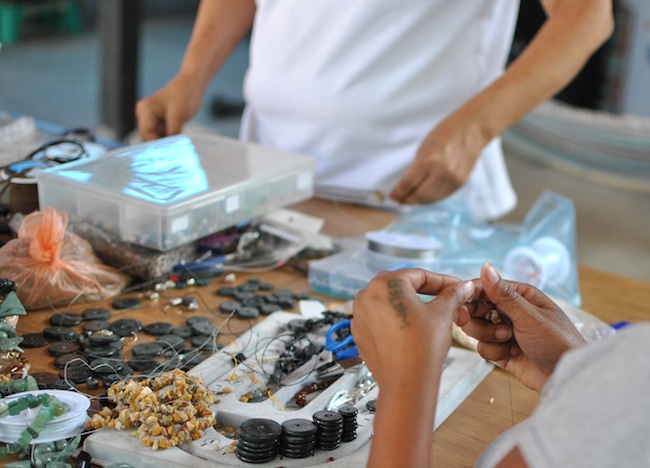 In 2009, the second time I was in Guatemala I was visiting homes in La Limonada with Tita and we walked into the home of two students from the school, only to find the entire family sniffing glue. It was difficult to see a mom, dad, and three young children getting high together. When we walked into their home they then set the glue aside and proceeded to talk with us.
When I saw the mother's eyes, I was consumed with deep empathy. I could see through her eyes. I could feel her pain deep inside of my heart. After further listening to her story, I understood why she was hurting so badly. This fragile woman had been abused since childhood. Her father beat and raped her growing up, she gave birth to her father's child, the child was handicapped and outcast. She then married a man who also beat and raped her, followed by getting into a relationship with a woman that also beat her. This woman was broken and abused by every single person in her life that she had tried to receive love from. How could she ever trust anyone. How could she ever experience real love – the love of God?
She was open and honest about her pain. She didn't pretend. For that, I held deep respect for her and from that moment I promised her that I would never forget her eyes or stop praying for her to have hope. I have, myself, been in despair and, thankfully, I know what restoration looks like. Since I met her that has been my hope for her life.
When I visited Guatemala last month we were rounding out the week by paying a visit to women who are participating in the Vocational Training program. They make jewelry and the program is able to pay them a fair wage for their work. In addition, they are offered counseling and experience a sense of community with other women from La Limonada who have struggled as a result of similar situations. As I sat down to listen to the stories of the lives of the women, I looked across from me… and there were those eyes.
The woman whom I had met years before has been in this program for over a year and a half. Her eyes were no longer filled with rage, anguish and emptiness. I know her daily struggles are still very real and that her life may never be "easy"… but she is in the process of healing. I believe that this program and the work that God is doing through it is responsible for her healing. I just could not believe that I was able to see an answered prayer in flesh and blood. I cannot communicate the depth of thankfulness I have for the people responsible for setting up this vocational training program and for the support that makes it possible.
-Sommer Wisher
Short-Term Groups Coordinator
Post a Comment or Prayer