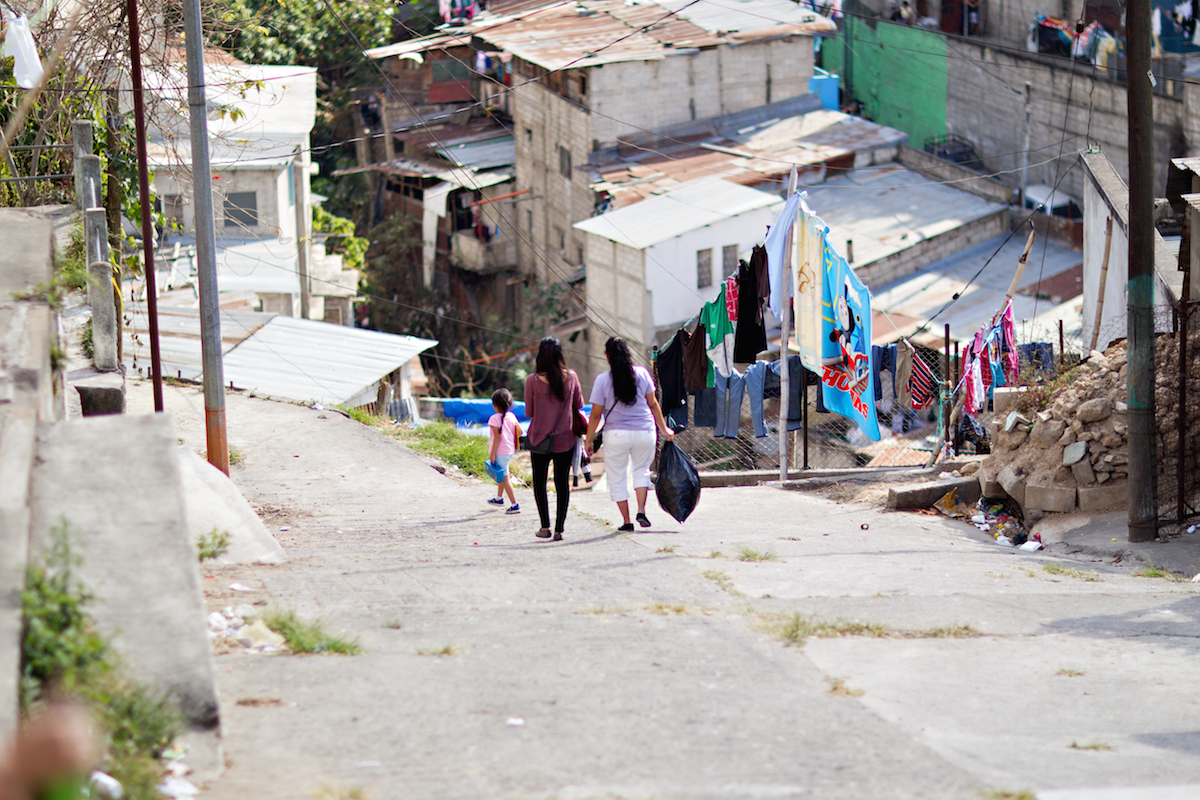 As you may have seen in our social media updates, in recent weeks there has been an increase in senseless violence in two of the neighborhoods in La Limonada.
Cycles of extreme poverty and corresponding loss of hope have long dominated the community. Children growing up without access to basic services, education, jobs, or other opportunities find their hopelessness can be escaped even for a moment by stealing a thing, a person, or a life.
Father Gregory Boyle, who works with gang members in Los Angeles, wrote, "Homies, more often than not, just decide to put themselves in harm's way when things turn bleakest."
This bleakness has grown as rival gang members in La Limonada have been actively crossing lines and pursuing ongoing retaliation. Those committing violence are a small minority of the community of children, families, and elderly who simply want to live in peace.
In recent weeks,
Two youth were shot over lunchtime and sent to the hospital where they are still in intensive care. Other gang members have come looking for them there.
Two unknown, young pregnant women were shot and killed simply because they were not from the community.
Two security cameras installed by the Guatemalan police over the bridge near the Limon Academy were broken by gunfire.
A mother of eight caught stray bullets meant for rival neighborhood gang members. After suffering multiple gunshot wounds, she passed away.
A father opened the door to those pursuing his son. Despite being an active, helpful community member, he was met with a bullet originally meant for his son and died.
A sixteen-year-old boy died this past weekend of a gunshot wound to his leg.
This week Tita shared with us, "We are going to fight with faith, justice, and love, with hope and believing to the end. We are going to pray, worship, and keep going. But we do need your prayers. Please, keep us in your prayers every time God reminds you about our situation, about the poor, about injustice, and about this fight."
Your prayers are fueling the courage, resolve, and hope of the staff members who remain present during this time of grief and fear. Your support is enabling them to keep on standing with the least of these, praying for an end to the violence, bringing the message of God's love to those with blood on their hands, while making a wholehearted investment in the children before they choose gang life.
Please pray…
For the teachers. The stress on those who live in the community is immense. The teachers feel responsible for the safety of the children as they arrive and leave the academies each day. Several teachers have voiced, "We do not want to get used to this violence."
For the children. They are very aware of the tension and danger all around them. One of the children shared with a staff member that he heard a shooting outside of his home while he was trying to sleep. He told her he prayed to God. She said, "Even in times of distress, the children are turning to God!"
For the gang members. Pray for the hearts of those embracing evil ways. We believe God loves them and has forgiveness ready for them. Pray that they would denounce violence and desire a new life in the way of Jesus.
For those who grieve. Pray for the families grieving the loss of their loved ones—for comfort, healing, and provision. We hope they will report the violence instead of seeking revenge.
For those who fear. In a recent medical evaluation of the community, our friend Dr. Stephen Patrick identified stress, anxiety, and psychosomatic chronic diseases as the top problems in La Limonada due to the ongoing trauma and extreme poverty. Pray for the members of the community who hope each day for peace in the midst of fear – and count each day where no one was killed.
For peace. Pray for God's will to be done in La Limonada. Pray for mercy, justice, and love to fill the spaces of darkness.
When Tita and her team look in the eyes of those perpetuating evil, they see the stories of other former gang members who have chosen to stop the cycle of violence, and believe life could be different. They know there is hope and they fervently pray for God to change the hearts of these young men the way he did in Efrain.*
When fully active and tattooed gang member Efrain first met Tita, she asked him how she could pray for him. In a rare moment of vulnerability, tears welled up and he told her how much he desired to work – an honest job. He knew his tattoos were a sign of his gang involvement, causing fear and rejection from any employer. In desperation, he took a razor to scrape the tattooed skin off of his face and a lighter to burn them off his arms. After making the commitment to stop stealing, he fell into depression. Day after day, his wife would return from working hard, long days. "Her tiredness should be my tiredness," he would say in shame. After faithfully praying and hoping, he now has a good job as a parking attendant at a mall and a way to earn a an honest living to support his family.
We believe change is possible. And we are grateful that you have joined with us on the journey toward that change.
Finally, as we think of the children of La Limonada who are surrounded by such violence, I believe now would be a great time to sponsor a child at one of our academies—building a relationship with a girl or boy who would truly benefit from the love, encouragement and support you have to offer.
If you are already a sponsor, this would be a perfect opportunity to write to the child you sponsor— sharing a brief note with much needed words of comfort and hope.
Thanks for your love and support. This work could not be done without you.
Grace and peace,
Bill Cummings
CEO & Co-Founder
*Name has been changed to protect this person's identity.
Post a Comment or Prayer