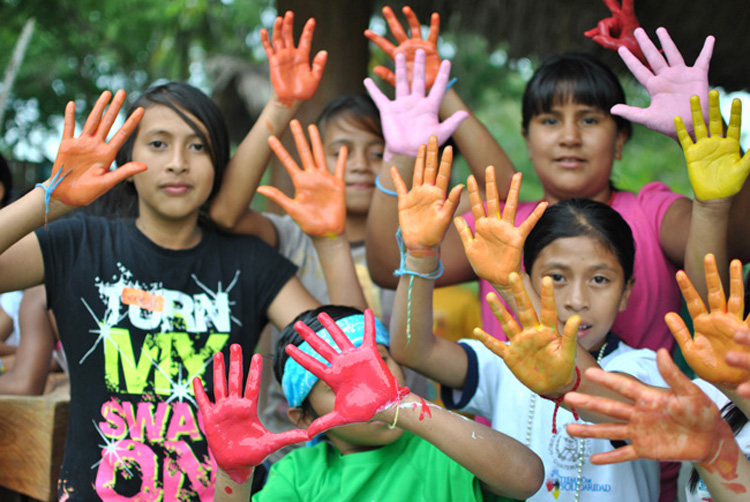 Today's guest post comes from Amelia Moore, a photographer and associate producer at Athentikos, which produced the film Reparando, telling stories from La Limonada and elsewhere in Guatemala. Amelia and her husband Scott are true friends of the people of La Limonada, and we're grateful for their efforts to make art programs available to the students in our academies.
This week, the Athentikos team will be heading to Guatemala with our I AM ART program for the purpose of facilitating a weeklong art camp in La Limonada. The I AM ART initiative enriches the lives of at-risk children by using creative arts to show them the power of their true potential. Our vibrant collective of professional artists teaches children how to find their voice and share their story.
With I AM ART, our goal is to help each child find the art within so they can change the way they view the world around them. Through the I AM ART program, Athentikos raises funds, organizes projects, develops curriculum and provides spiritual oversight for several art programs: overnight art camps, art workshops, theatrical performances, teaching training, and mentorship. For three years Athentikos have organized the annual week long Art Camp for almost 100 children with the leaders in La Limonada.
During the art workshops this week, the students will learn more about their rights as children. The Rights of The Child outline basic needs every child should have met. We will be focusing on ten basic rights: name, nationality, protection, love, education, recreation, food, housing, medical attention, and family. We will also be exploring the truth that God "has wonderfully made" each of us for a unique purpose!
It is exciting to see how art can be used as a spiritual and therapy tool. Art allows students to explore their world and discover new insights about God. And all the art produced during the week will be for others. The main project will be a 9×30 foot community mural project on the outskirts of La Limonada. The mural will be a public declaration of leadership and reconciliation as the youth work together in an area that is typically segregated by gang leaderships.
At the end of the week, the group will host a Celebration Ceremony to dedicate the mural to the community. During the ceremony, the participants will share about their art workshop production and their leadership commitment to make positive choices.
Our personal journey in Guatemala began with the adoption of our two beautiful boys who are now six and eight years old. Through them, we were introduced to the beauty and destruction of Guatemala. My husband and I were inspired to respond. Using our creative skills of film production and photography, God lead us to produce two documentary films, Reparando and Becoming Fools. From those projects we have been connected to many organizations in which we have now organized artistic projects in various communities.
I'm excited to continue our relationships in La Limonada through I AM ART!
– Amelia Moore
We'd like to encourage our readers to consider supporting Amelia and the Athentikos team in their efforts to bring I AM ART to the children of La Limonada. Funds raised will be used to cover materials, travel expenses, and scholarships for children from La Limonada to attend programs related to I AM ART. You can support this project through a tax deductible donation HERE. Thanks!
Post a Comment or Prayer