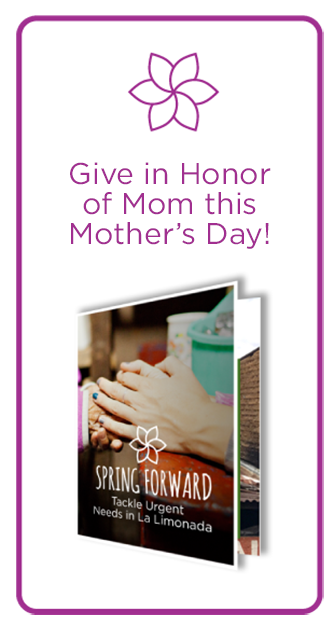 Mothers living in the largest urban slum in Guatemala City struggle to provide the basic needs of their families – they want a better life for their children without the ability to make that possible.
Our Spring Forward campaign is tackling the urgent needs of mothers and families in La Limonada.
Like Ana who daily watches her son's body swell in the painful fight against Leukemia. Struggling to simply pay taxi fare to take him to the public hospital, she longs to cover his medical costs and see him go to school again. She is being encouraged through the love, prayers, and ongoing support of Tita, our community nurse Janina, and other members of the team.
In her words, "I am hoping in God to provide."
After giving a donation of any amount to the Spring Forward campaign, we will email you this beautiful card to download, personalize, and deliver to Mom on or before May 10th.
Experience and share the joy of giving twice this Mother's Day!
Name changed to protect privacy.
Post a Comment or Prayer