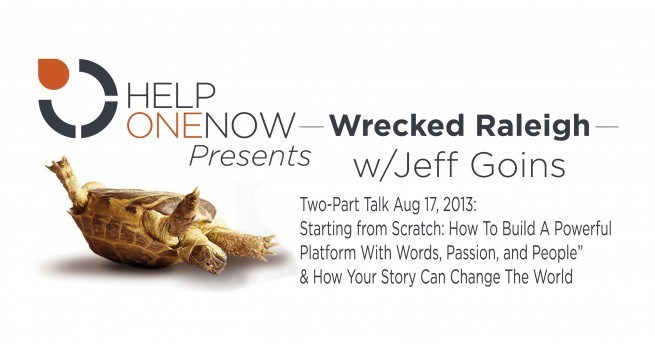 We are excited to support our friends from Help One Now here in Raleigh as they present a one-day writers conference with author, Jeff Goins.
This is a one-day event for writers and storytellers.
Jeff Goins author of Wrecked, is partnering with Help One Now to hold a writers conference in downtown Raleigh. The two part session will focus on: Starting from Scratch: "How To Build A Powerful Platform With Words, Passion, and People" & "How Your Story Can Change The World".
Bio From Jeff's Blog:
In 2011 and 2012, my blog was voted one of the "Top 10 Blogs on Writing" by WritetoDone.com, and my writing has been featured on some of the most popular blogs on the Internet, including Copyblogger, Problogger, and Zen Habits (voted by TIME Magazine as one of the top 50 websites of 2008).
My first book, Wrecked: When a Broken World Slams into Your Comfortable Life, was just released in August, 2012. It spent two weeks in the Top 50 Books list on Amazon.com and has already gone into a second printing, selling over 20,000 copies in a matter of months. I also self-published an eBook, called "You Are a Writer (So Start Acting Like One)", which was an Amazon Best Seller.
Tickets for the event will be $25 and $35 (including Jeff's book). We only have 100 spots available.
Location: The Sir Walter Raleigh Apartments, Virginia Dare Ballroom; 400 Fayetteville St Raleigh, NC 27610
We will host a Networking Lunch after the event (not included in the ticket price)
Lunch Location: TBD
Post a Comment or Prayer