The following post is Part 2 of two-part guest post series from Lindsay Stevenson [Read Part 1 here] and it has been reposted from her blog, Little House Big World. Lindsay and her family sponsor Misael, one of the students who is enrolled in one of our academies in La Limoanda. Lindsay's husband, Luke, recently returned from one of our short-term trip with their church, Ekklesia in Raleigh, NC.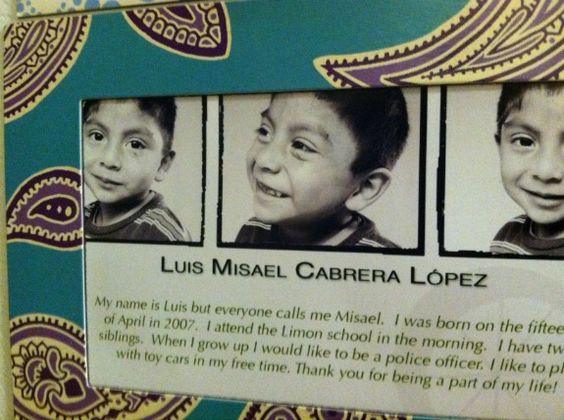 We're a little obsessed around here with a certain Guatemalan boy named Misael. He's our sponsor child ,and we talk about him/pray for him on almost a daily basis. Last week I shared how sponsoring a child changed our life. Today we'll dive into how we can make that relationship meaningful for our families.
Luke was able to meet Misael and his family on his trip to Guatemala. I know that it is more uncommon than common for sponsors to visit their sponsor child, but I believe that a close connection can still be made between your family and the child you sponsor.
Whether or not you ever meet in person, there is a bond in place. If you sponsor a child, you are an integral part of his/her life. Because of your gift of money and your prayers, hope and life are being given. It doesn't matter if the child knows your name, you know his/hers. While we stand on this side of heaven, the fullness of your gift may not be realized.
Money is important, and the basis of the sponsorship, but there can be connection and relationship with a little intentionality.
Creating a stronger connection with your sponsor child:
Write letters: It's likely that the organization you sponsor through has a system in place for correspondence. There's a reason for this. It's the easiest way to connect, and one of the most rewarding. Get the kids involved. If they are too little to write, have them draw a picture. It's easy to overlook writing letters in the day to day activities, so put reminders on your calender once a month or every other to help make it a priority. Lemonade International has a space online to submit a letter, which makes it even easier!
Talk about him/her: Try to make your sponsor child a regular name in the house. Talk about him like family or a dear friend. This can be as simple as, "I wonder what Misael is doing today?"
Celebrate his/her birthday: If you know when your sponsor child's birthday is, you can celebrate it with your family. This is a great time to pray for him/her, write a letter together as you celebrate, and make a birthday cake.
Keep his/her picture up: Whether it is on the refrigerator or in a frame on a shelf, give him a place in your home that will serve as a regular reminder.
Learn about the culture: If you have children this provides valuable lessons for them (and you!). Locate the country on the map, cook a food from the culture, learn some of the language, and check out library books.
How awesome to be a part of the life of a child through sponsorship! What ways would you add to the list on how to make the relationship more meaningful for you and your family?
Post a Comment or Prayer