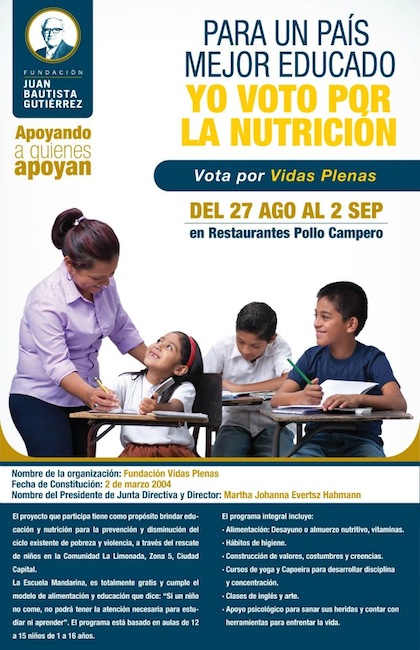 As a result of some of the new relationships that have been established (as we shared with you in this post), Tita was made aware of a grant from Fundación Juan Bautista Gutiérrez that is awarded to NGOs (Non Governmental Organizations) in Guatemala each year to feed and educate children living in poverty. The team in Guatemala followed up and applied for the grant to help sustain the schools in La Limonada.
We were notified recently that Vidas Plenas is one of the two finalists for two grants that will be awarded following a public vote at Pollo Campero restaurants in Guatemala from August 27 – September 2. Following the vote, $153,846* will be awarded for first place and $64,102* for second place.
This is incredible news and either grant will be a tremendous blessing to the work in La Limonada. Second place would provide for the full cost of food for the children at the schools for one year. First place would cover food costs, scholarships and maintenance for one year as well as provide for construction expenses to add a day care center on to the Mandarina School.
If you know anyone in Guatemala please encourage them to vote at Pollo Campero restaurants from August 27 – September 2. And we'll notify you of the results of the vote as soon as we find out.
*US Dollar equivalents based on the grant award amount in Guatemalan Quetzales
Post a Comment or Prayer