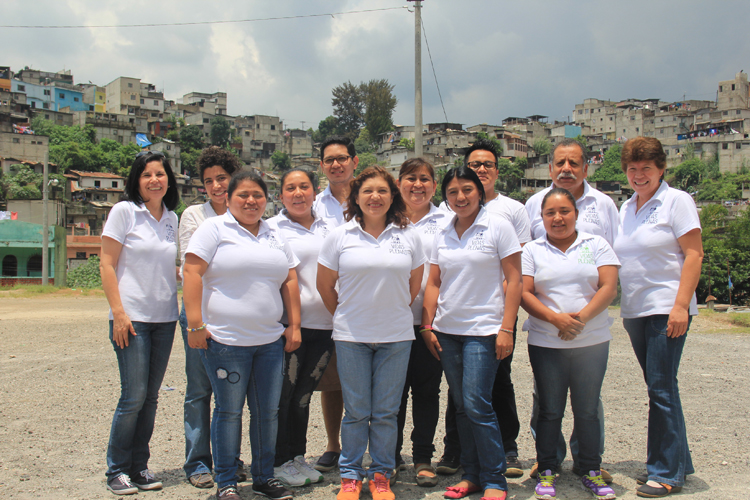 Today we share the story of Sharon (second from left in the photo of the Mi Casita staff) as told to Lizza Majus, our International Operations Director. Sharon, 20, started working in the Mi Casita Safe Home earlier this year.
I was referred to Tita and Vidas Plenas by Kim Hekman de Morán of CMT Guatemala. Kim told Tita some of my story, and that is how the relationship was established. I began working as a teacher in charge of two young girls at the safe home.
It took some time and hard work for the girls to get comfortable with me, but now they are. For a while I was responsible for a girl who is no longer at the safe home, and now I also care for a baby boy.
My job is nice because I can play with the children and I enjoy the opportunity to give them my heart. It is a joy to be with these children because when I am with them I am close to God. I am at the safe home every week starting on Monday at 6:30 AM until I leave on Saturday at 7 AM.
As I get experience being a mother ahead of time, this work has helped to mold my character. It has taught me to be obedient and to wait. These children are food for my life, and they inspire me to always go the extra mile.
From the time I was a little girl I wanted to be a missionary. What I have discovered is that this work I am doing is a mission. I am serving, and serving has a price. In addition to my daily tasks, I have the responsibility to follow up on the spiritual lives of these children.
The hardest part of this job is to be a good example for the children, since I am a significant adult in their lives. Sometimes they say to me, "When I grow up I want to be like you." But I tell them, "No, you have to be better than me."
– Sharon Elaine Padilla Cadenas, as told to Lizza Majus
Post a Comment or Prayer