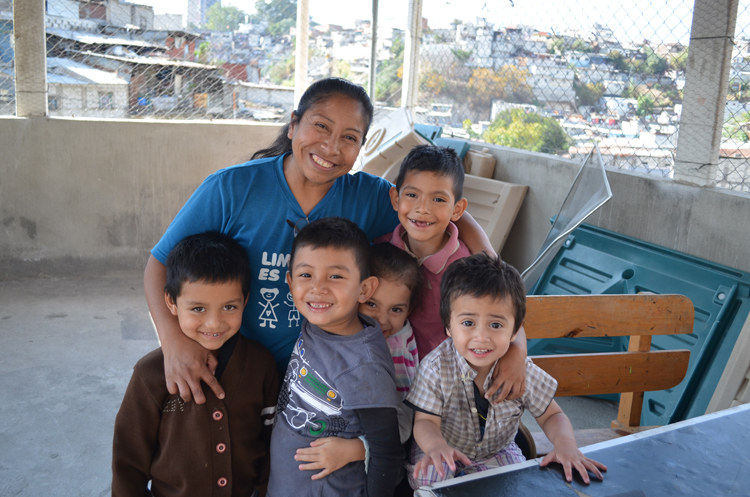 Today we share the story of Ana Xiloj, as told to Lizza Majus, our International Operations Director. Ana works in the nursery at the Mandarina Academy, having earlier volunteered as an assistant teacher at Limon. Lizza writes, "Currently Sister Ana helps couples to bring children to school at noon. She does everything to continue to bless families. She recognizes that it is a big responsibility but likes to help." We know you'll be encouraged to hear about the transformation that has taken place in Ana's life, and how she now serves and loves her neighbors in La Limonada so sacrificially.
In 2009, when my daughters started attending the Limon Academy, life was very hard. I was receiving physical abuse from my husband, and one day he used a machete to attack me, leaving me very badly injured. I underwent an operation and spent two months in the hospital. I had casts on both arms and couldn't feed myself.
During that time, sister Tita and the teachers helped me. Janina and Yoli supported me by watching my children while I was hospitalized. When we lived in the same home with my husband, we were living a war. We couldn't sleep or live in peace. So I initiated a legal process and now my husband is in jail for the harm he did to us. Today my children are better. Alejandro is 5, Mimi is 9, and Karlita is 11.
I am very grateful to God for the opportunity he gave me to be alive after all this trouble. As a form of gratitude I started helping out in the Limon Academy as an unpaid assistant teacher. I couldn't do much at the time because of the casts on my arms, but did what I could to help the teachers with their work. Vidas Plenas, in turn, provided food for my children and me in appreciation for the help I was giving.
All of this gave me peace because I felt in my heart that God had called me to serve. I prayed and thanked God for the opportunity during those three years at Limon, helping in all the classrooms—from the youngest to the oldest. It was a pleasure to work first for God and then for the children.
One day Tita asked me if I was interested in transferring to Mandarina Academy and working there. Though it is in a different part of La Limonada, I accepted and today I am working with the small babies there. I'm not asked to teach them, just to be with them and look after them. But I do want to teach them—I want to teach them the love of God. I want to give them more than I can give. Every week I'm asking others if they can donate clothing for the babies, since that's an ongoing need.
I enjoy helping the community, serving people, and supporting families. It has changed me. I have learned to better love the children, and it has taught me the love of God. I thank God that he gave me new life and that he has a place for me. I never could have imagined that God could love me so much.
– Lizza Majus
Post a Comment or Prayer