The following is part two of a guest post from Aixa de López. Aixa is a graphic designer and the wife of Alex López, Associate Pastor of Fraternidad Cristiana in Guatemala City. She said, "The closer I am drawn to the cross, the more clearly I understand I am as poor and needy as the ones I yearn to serve." Aixa recently visited La Limonada with Tita and shared photos and thoughts with us from her experience.
You can read part one of Aixa guest post here.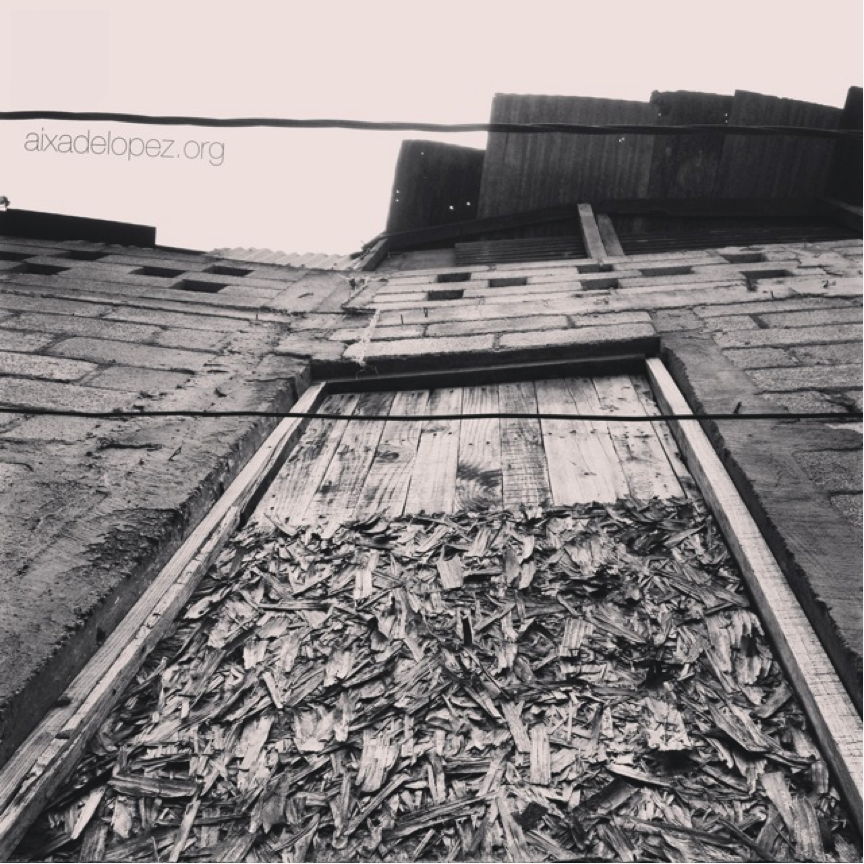 This picture I took without bending down the door was exactly that high. The landscape rules are that you build however you can – you climb inside your house if you have to.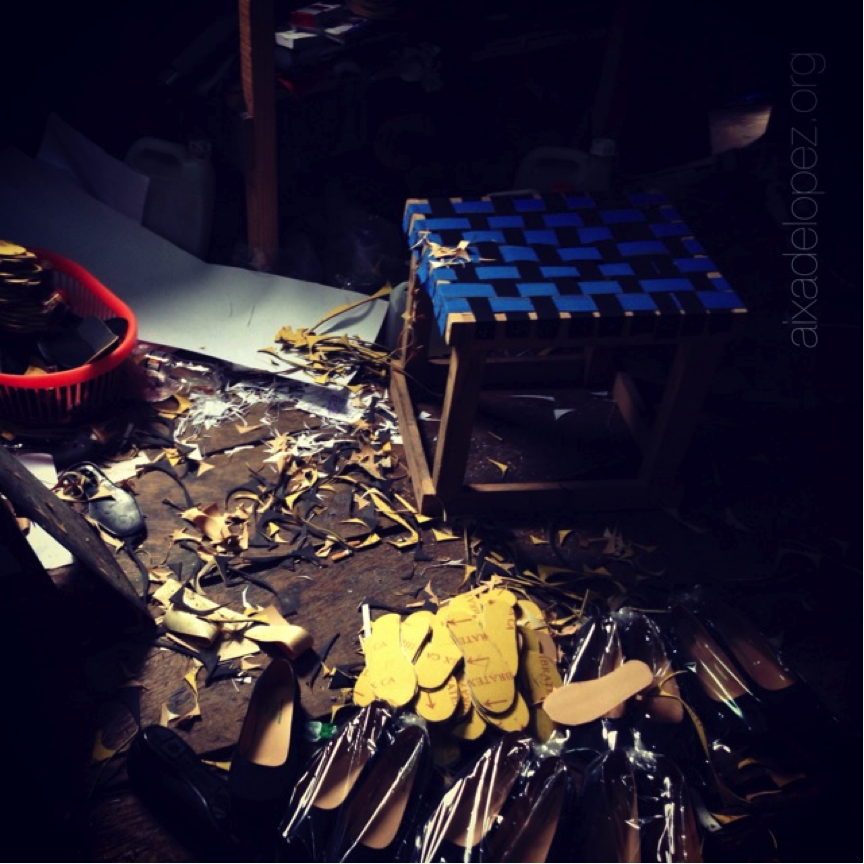 And now my other favorite story. Don Otto and his shoe workshop. A long story made short: the man who grew up in extreme poverty and a bitter heart, is reached by God´s mercy on a day he set out to rob a victim on a bus, gives his life to Jesus, learns the shoemaking craft, but while still living in this hard part of town his son ends up paralyzed and in a wheelchair in a gang related fight, but Otto decides to forgive them. Now he has his shop with the help of Vidas Plenas and Lemonade International. In his shop he crafts shoes his son will never get to wear. More than making shoes, he crafts hope for lives that were thought to be waste. He takes gang members in and teaches them that love triumphs over hate and that they can walk on a straight path with "Made in La Limonada" shoes. I LOVE mine!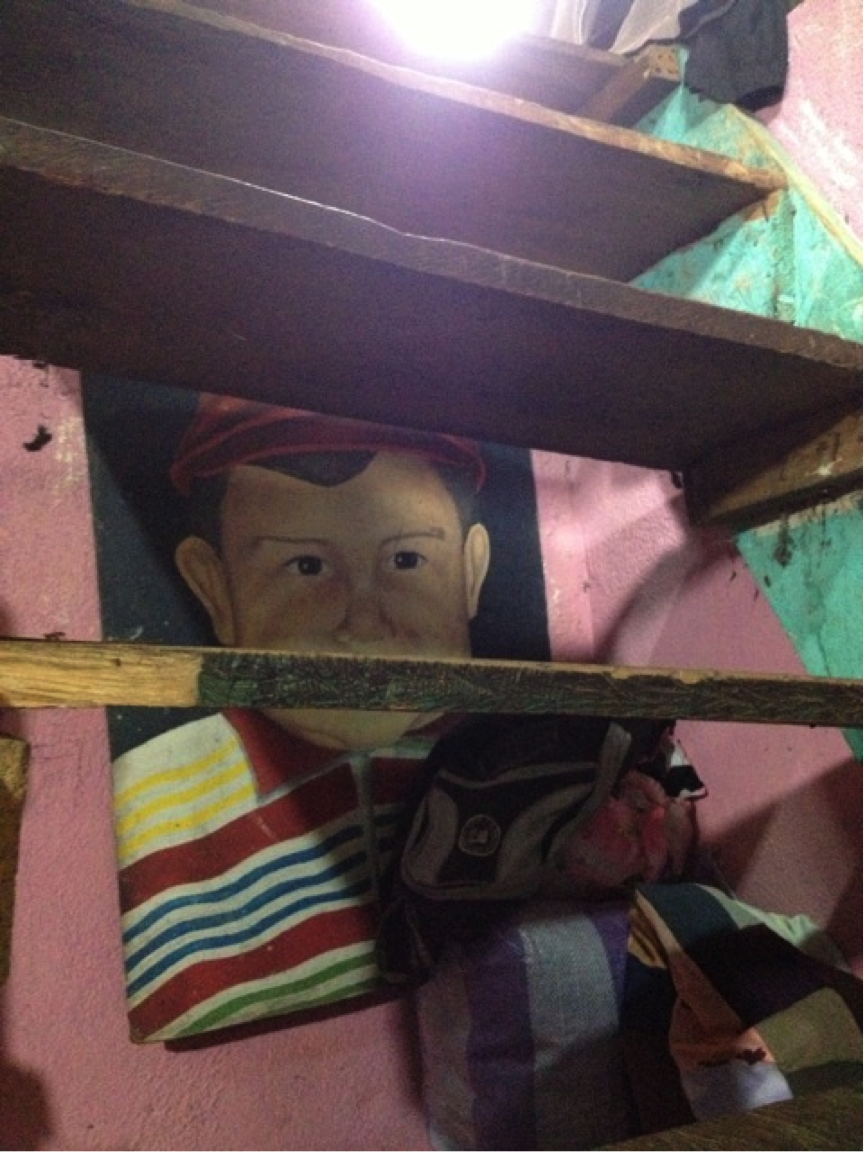 This portrait behind the stairs that lead to the workshop was painted by Don Otto's son, Christian. He may not be able to walk, but he is an AMAZING artist. In addition to that, he owns a little candy and snack shop. He painted this portrait when he was only 10 years old.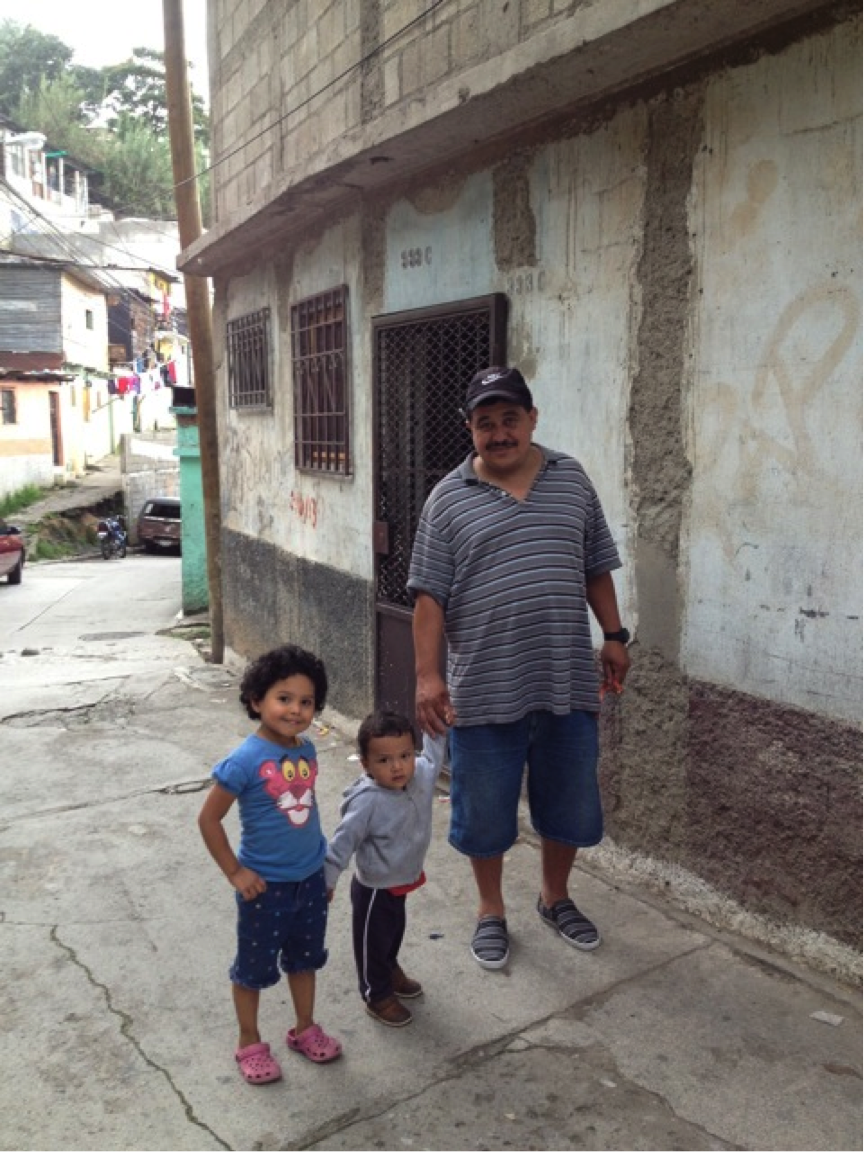 Don Otto and his little ones. He told us that one day last year he and Christian headed out to his therapy and when they came back they saw the door had been forced open and the tv was on the floor. He said his heart sank down to his stomach when he remembered he had a year's worth of savings(Q3000- about $375) upstairs – which he used for his business. He said "I couldn't help but cry", but Christian said to him "Dad, we've been grateful on the days we've had everything, and today is the time to give Him thanks even though we're left with nothing" and Otto said, "I went to my room, to ask God to forgive me for doubting Him". Eight days later someone from England ordered 200 pairs of shoes – which provided them with three times what had been stolen. Beauty.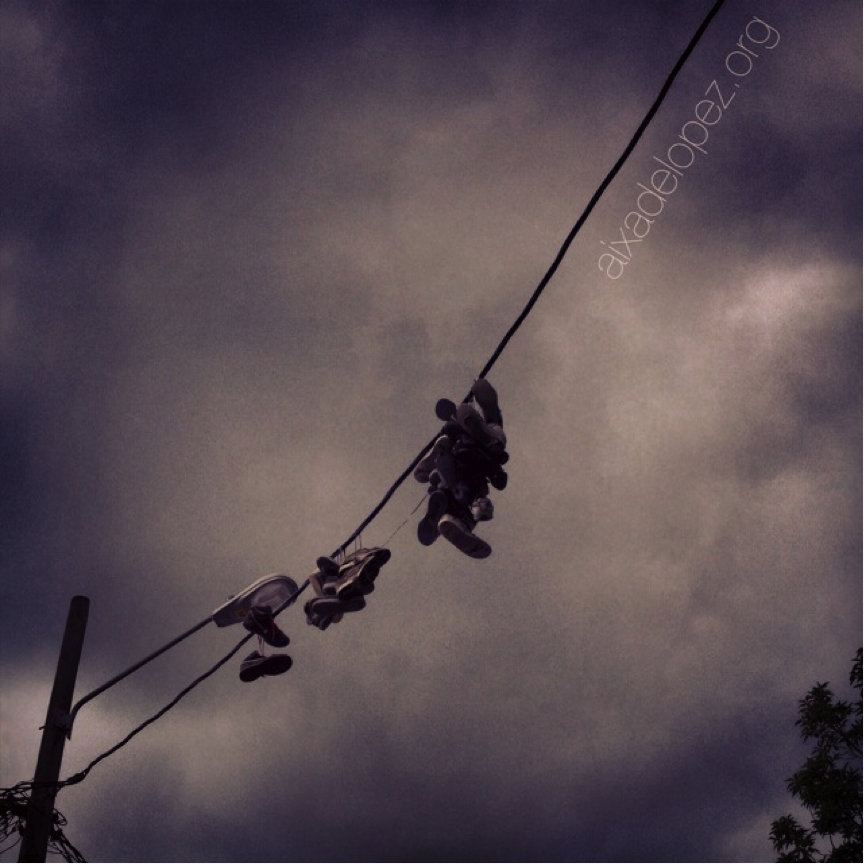 In Guatemala, there's a saying when someone dies – they "hung the shoes". But most people have stopped asking where that saying came from. I asked if it was true that it had to do with gangs and how they initiate someone and ask them to hang evidence of the damage done to their victim. And yes. That´s exactly what it is. Each pair of shoes belongs to a victim.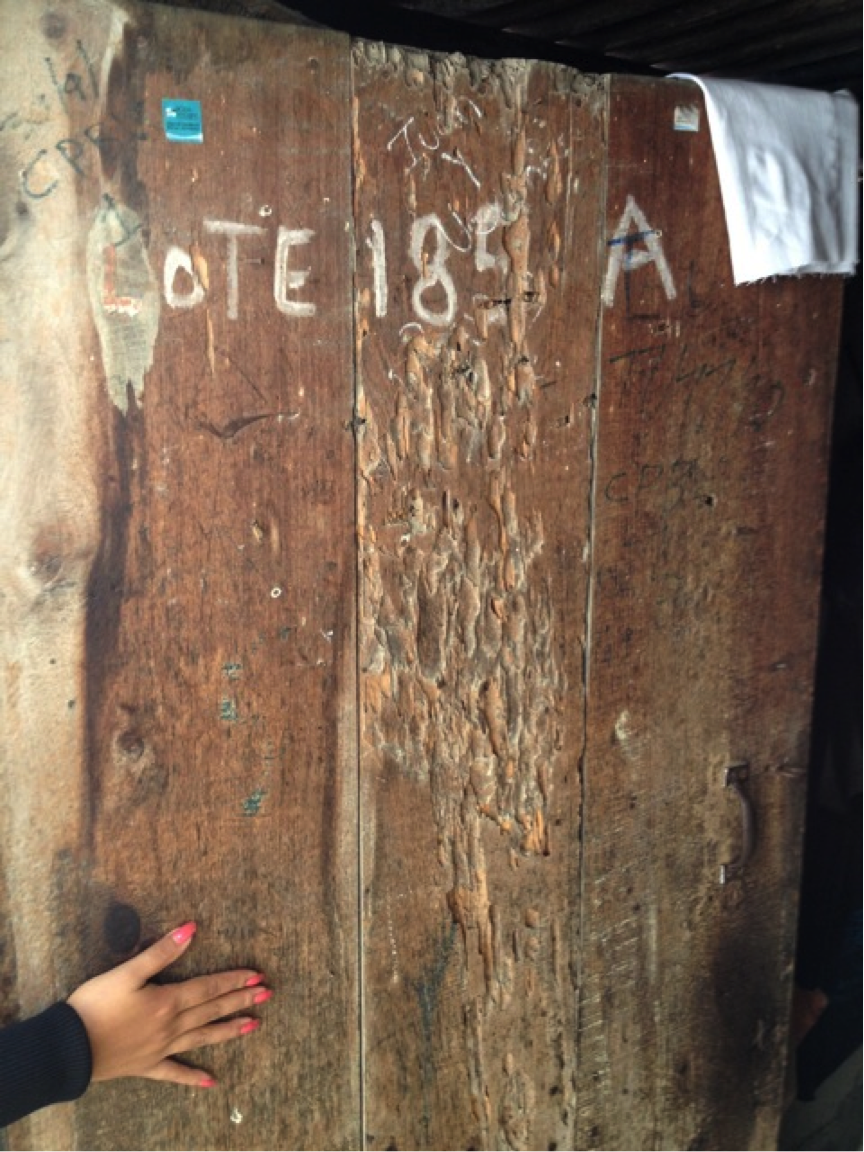 Behind this door lives one of my heroes – Lilliana. I didn´t take her picture. It never occurred to me to take my phone out… she´s too amazing to miss a minute of time with her because I was taking my phone out. She greeted us with the warmest smile I have seen in a long time. People in La Limonada are not preoccupied with how they or their house looks. It seems, happiness to see you is the only thing required.
Liliana gratefully accepted a package of adult diapers and baby wipes with the gratitude of a child at Christmas. She told us with grateful tears filling her eyes how she felt so loved by the Lord on a daily basis! Her daughter, her only child, has Down Syndrome, autism and is deaf. Liliana is her sole caretaker. Her only income is from selling pots and pans door to door. Her sister who used to help her, died of cancer and her elderly father was killed last year. His little shop was located on the border of two gang territories.
She told us she wanted to share with us something she had been reading. She took a beat up little red book and started reading with some difficulty, some Bible verses that talk about God´s promises, and would pause to point out "I´m there… that´s for me". It broke me. It broke US. When we said goodbye, I told her in a broken voice it had been an honor to be inside her home and she took my arm and said "Honey, God has a reward for you too… cheer up!" WOW… she lives an abundant life because she lives completely grateful, SATISFIED in God. She didn´t whine. She even praised God. I LOVED her. I pray for her daily now.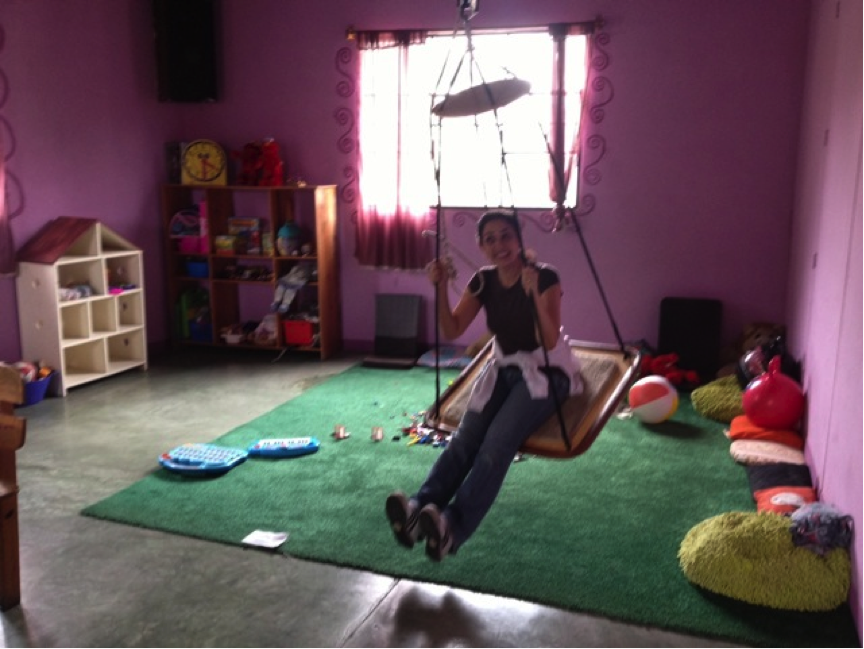 We visited the two Academies. They take kids in the mornings and afternoons and feed them meals before their lessons. They get to do academics, art and psychological therapy. Everything is free. They have a full staff and make it on donations. This swing is for the kids, and adults who need to chill out, like me! LOL!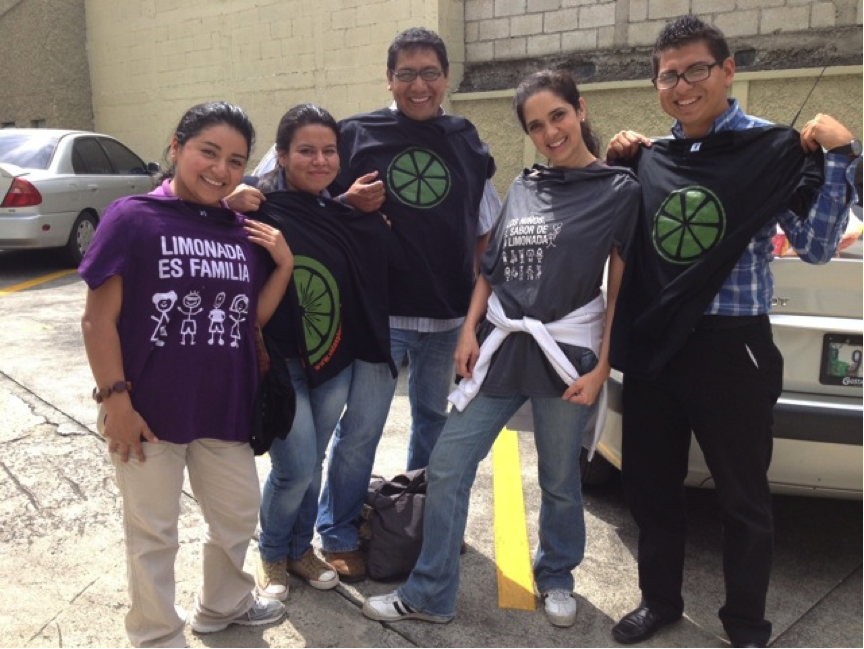 And here, after an intense morning when we had the opportunity to go inside God´s heart, we could see and feel Him. It´s true. God is near to the brokenhearted. I came back convinced that praying for the violence in our country is valid, but we need to combine it with a love that DOES something for the source from which the pain generates. And once more I find it logical that only by pouring out love into the children whose mothers and fathers are committing crimes are we going to break the cycle. Love is the answer. Now my heart has strings that go all the way down to that ghetto that for so many years I conveniently ignored. I have faces and names for which to cry and smile about. It became personal. It was my kind of morning.
– Aixa de López
Post a Comment or Prayer