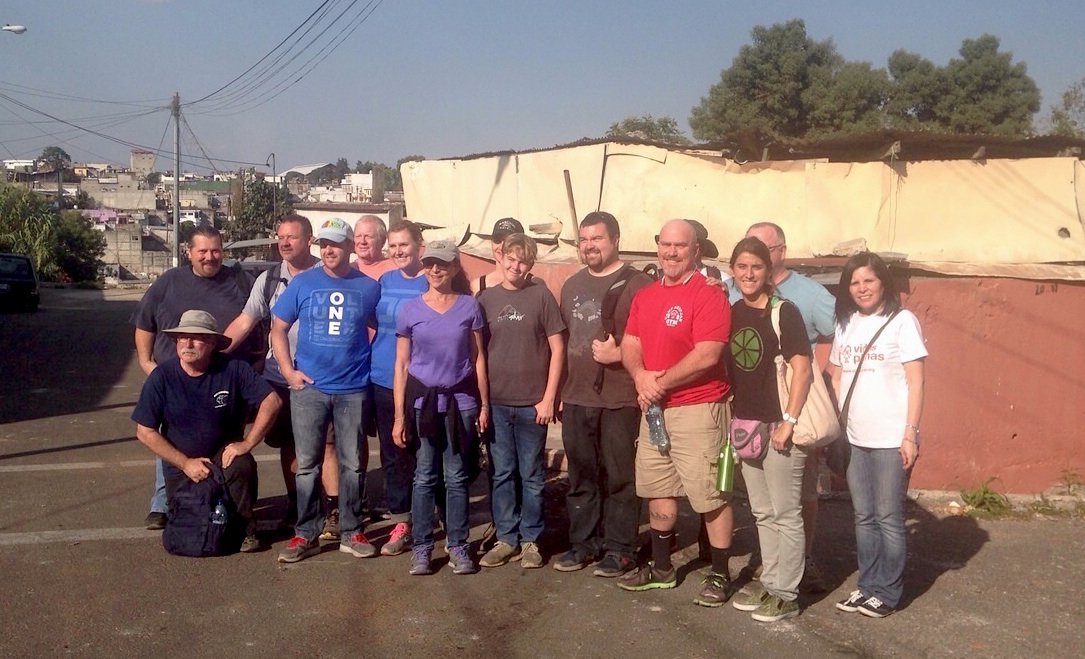 Flipside Christian Church in Madera, California has been an incredible advocate, friend, and partner to the community of La Limonada. We asked Senior Pastor Karl Roth a few questions about how his church first met, fell in love with, and came to partner in such a significant way in the impact of the academies on the vulnerable children in the community.
When did you first meet Tita and the community of La Limonada?
I met TIta in January 2013. I heard about her ministry through a mutual church planter friend. I was in Guatemala for ministry we have in other parts of Guatemala and had a day with nothing planned. I called Tita, introduced myself, and she (along with an employee, Rebecca) agreed to meet us at a Burger King parking lot. From there she agreed to take us into La Limonada and introduce us to the people there and her ministry.
What first drew you to La Limonada?
I was told about the community of La Limonada, and the ministry being done there by a friend. We were involved in other ministry in Guatemala but the story I heard about this community intrigued me. It took but a short time to be drawn to the people there. On our first trip we met Braulio and Marcelina. An elderly couple who had lived together in La Limonada for many years. He was blind, and she wasn't able to walk well. It was while talking to this precious couple that we discovered they weren't married (though they had been "dating" for decades) – so we married them right there in their little home. It was beautiful!
Your church has had an incredible impact in La Limonada. What has motivated you as a congregation to support the Academies in such a significant way? Why does this matter to you as a church?
We've agreed to say "yes" to God before we know what we are saying yes to. We want to say "yes" on the front end. Then we wait for God to reveal to us what it is we have already said yes to. Upon seeing the people of La Limonada, and meeting Tita, we knew one of the things we had already said "yes" to was the people and ministry there. The need is great, and we know we can't do everything that needs to be done in La Limonada. As a church we've agreed to live and minister with the understanding that we must do for one what we wish we could do for all. What motivates us is that we've already said "yes" to God. All we are doing is following through with what we have already said yes to. Also, we cannot turn away from the children there. We are being the voice of those who have no voice. We believe Christ has an affinity with the poor. We want to stand in solidarity with Him, and alongside them. If this ministry isn't important to us as a church, it means the Gospel isn't important to us. Once God revealed to us the need of His people in La Limonada, we became responsible to do our part.
You have had some incredible experiences visiting the homes in La Limonada. How has that impacted how you see the world and how you understand God's heart for the poor?
One of the things that visiting homes in La Limonada has done for the people in our church is making them less possessive of their own possessions. There is a greater understanding that we are simply managing His resources and are responsible to funnel His resources to where He wants them. We've also discovered great joy in playing the role of moving God's resources from our hands to where God wants them to be. In the homes of La Limonada we've sat with Jesus amongst the poor. In the homes of La Limonada we've heard the voice of God. In the homes of La Limonada we've seen the love Jesus has for both the saved and the lost. In the homes of La Limonada we've been changed.
How have you seen an impact on your church members who have gone to visit La Limonada? What difference has it made in the lives of your people?
The people who have gone with me to La Limonada are not the same people as they were prior to going; everyone of them is changed. For some it's a difficult transition back to their "normal" world, partly because parts of their hearts are left with the people of La Limonada. Those who visit La Limonada form a bond not only with the people there, but with God Himself there. As a result they are different "back home." They see themselves as global citizens, a part of the larger whole of humanity. They see themselves as participants in God's Kingdom work in the world. They've become more sensitive to the needs of the poor. They see themselves as able to make a real world difference in the lives of people who have little hope without our sacrifice. Our time in La Limonada has caused us to loosen our grip on our things. It has served to reprioritize our church finances. We give away to ministries like Lemonade International about 33% of our total church income. Through our involvement with Tita and La Limonada we've seen the benefit of saying "yes" on the front end, and joining God in what He is already doing. Those lessons have transferred to all other areas of our lives and church. We look for opportunities to say yes to God on the front end, and to join God where He is already working. It then becomes very easy to make decisions and spend money.
Thank you for investing your incredible hearts, deep faith, and steadfast love in the community of La Limonada!
– Katie Hoiland with Pastor Karl Roth
Post a Comment or Prayer