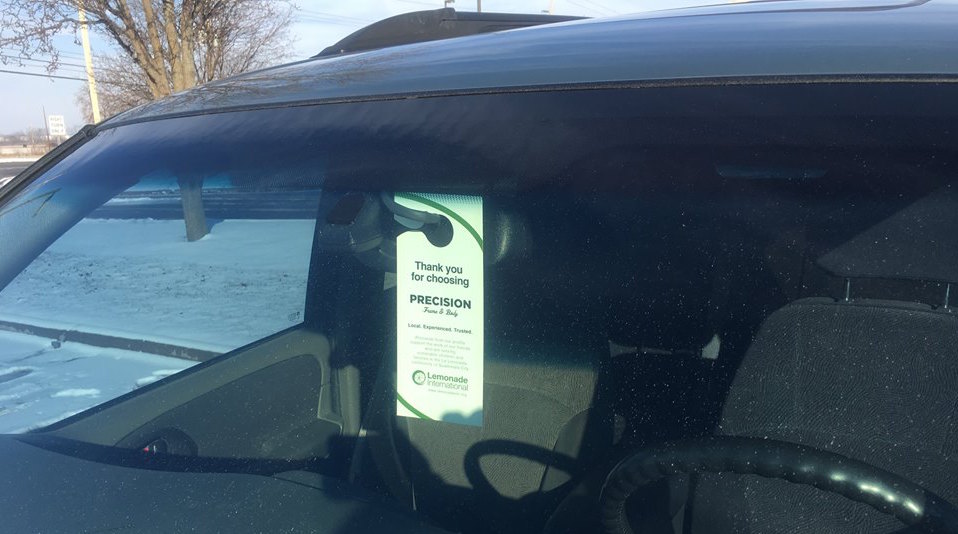 Our friends at Center City Collision and Precision Frame and Body in Ohio take their vision – "collision repair by people who care" – very seriously, both locally and globally. This vision has led them not only to invest in the vulnerable children and families of La Limonada, but to share the story with their customers on a daily basis. Each repaired car leaves with these rear view mirror hangers, proving their vision to care expands beyond quality work and customer service.
We are incredibly inspired by the outworking of their vision, honored by their ongoing partnership, and thankful they have made the choice to make a difference in Guatemala. We invited Chris Marshall to share more of the story behind this creative initiative.
_
Center City Collision was purchased in 2003 by Kevin Rains in Norwood, Ohio, smack dab in the middle of the city of Cincinnati. Kevin grew up in the collision repair family business that his Dad started from scratch on the west side of town more than 40 years ago. For many years, Kevin pursued a ministry calling and worked as a pastor and continued to grow his heart for justice, people, economic development, and real social change.
This path led him back to the family business. His vision as an entrepreneur was aggressive growth so that he could better care for the community of Norwood where he and his family have lived for 20 years. In the first ten years of Center City Collision, the business grew tenfold and now in its second decade of existence is stretching towards growing tenfold again.
One of the strategies of expansive growth is the acquisition of new sites and businesses. Last year he purchased his second shop in the West Chester community of Cincinnati and planted his vision there at Precision Frame and Body. The purpose of the growth is not for deeper consumption, but rather for Kevin to live out his dream of deep generosity both in his home community and to the communities he cares about around the world. La Limonada is number one on that list of places Kevin and his family care deeply about.
In 2007, Kevin and his family traveled to Guatemala to visit Jeremiah Griswold and his family as they were serving there at that time. It was on this trip that Kevin met Tita and caught her vision for love, mercy, justice, and hope for the community of La Limonada. Since then, he has made two additional trips to Guatemala and in 2010, CCC was able to financially sponsor a trip for the teachers of the academy to go on a retreat and visit Lake Atitlan, which many of them had never been to.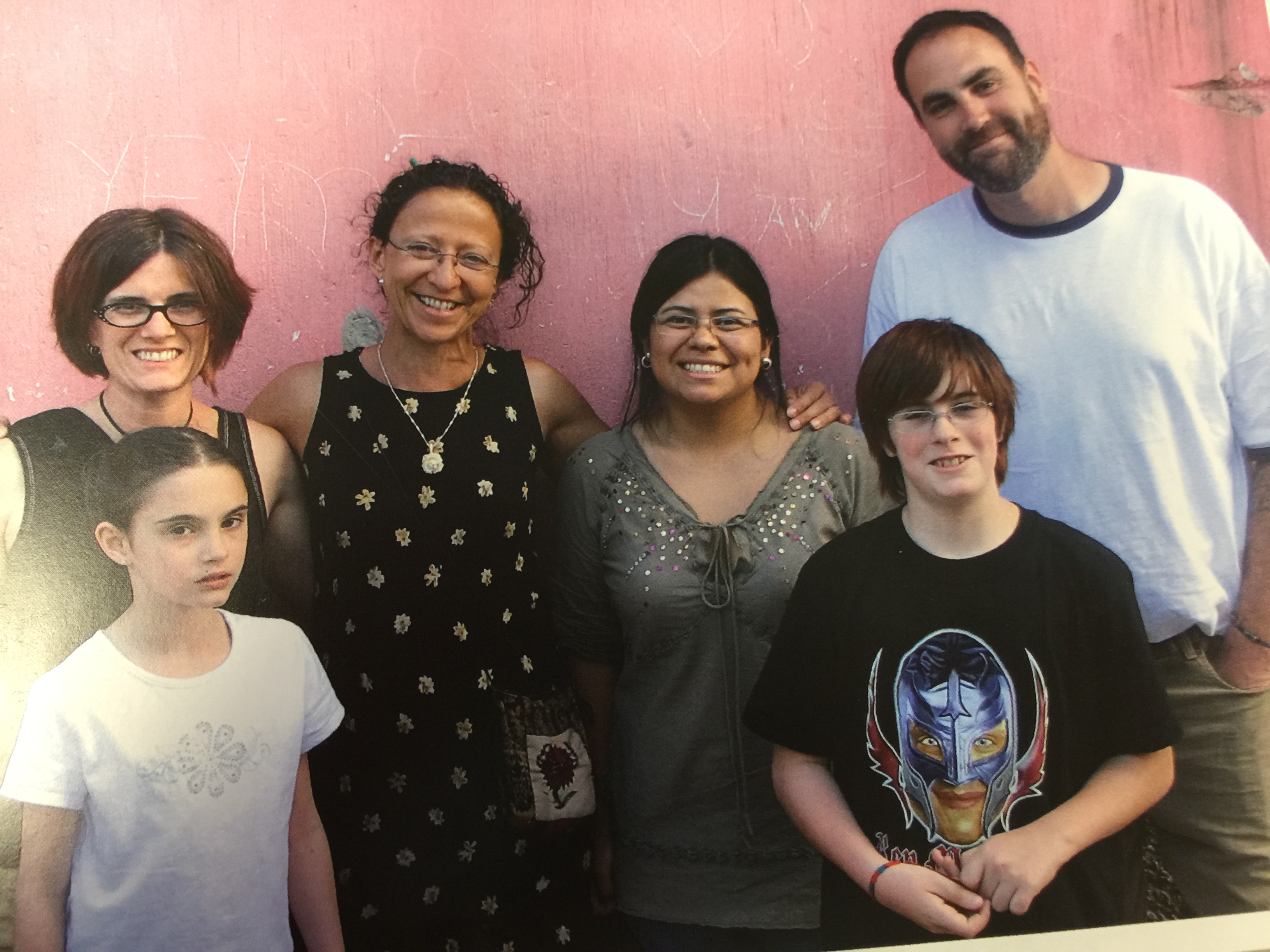 Kevin has hired a team of former pastors who have a heart to lead and bring about social change in real and tangible ways. Two of those team members also share a deep history and passion for La Limonada. As Director of Operations, I work bi-vocationally with the purpose of leveraging the finances of Ordinary Community Church, the house church network I started 15 years ago, towards specific missional needs, like the mission of Lemonade International. Tita has visited the house churches and her vision for loving people in all kinds of ghettos has left a lasting impression with the people there. We are kindred spirits and our communities share a common vision. OCC designates nearly 100% of its global mission support to Lemonade International and Tita's vision.
Jon Allis, Customer Service Manager, was on a service trip to Guatemala in 2007 and arranged a time to meet Tita through a contact with Kevin Rains. She met him and some other staffers at a restaurant and took them on a tour of the academies and the streets of La Limonada. The experience impacted him deeply, and his love for the community continues today.
Kevin, Jon, and I lead the body shops with a vision that is all about care and generosity. It's the heartbeat of what we do. Our vision breaks down what we mean by "care" into four aspects: Caring for Cars, Caring for Customers, Caring for our Team, and Caring for Neighborhoods. It is under that fourth value that we are taking more intentional steps to partner with Tita and her work in La Limonada this year and beyond. A portion of the profits of all of our repairs are going to support the work of our friends in La Limonada who are serving vulnerable children and the families of that neighborhood. It's a neighborhood we really care about and we want all our customers to know our care goes beyond their cars.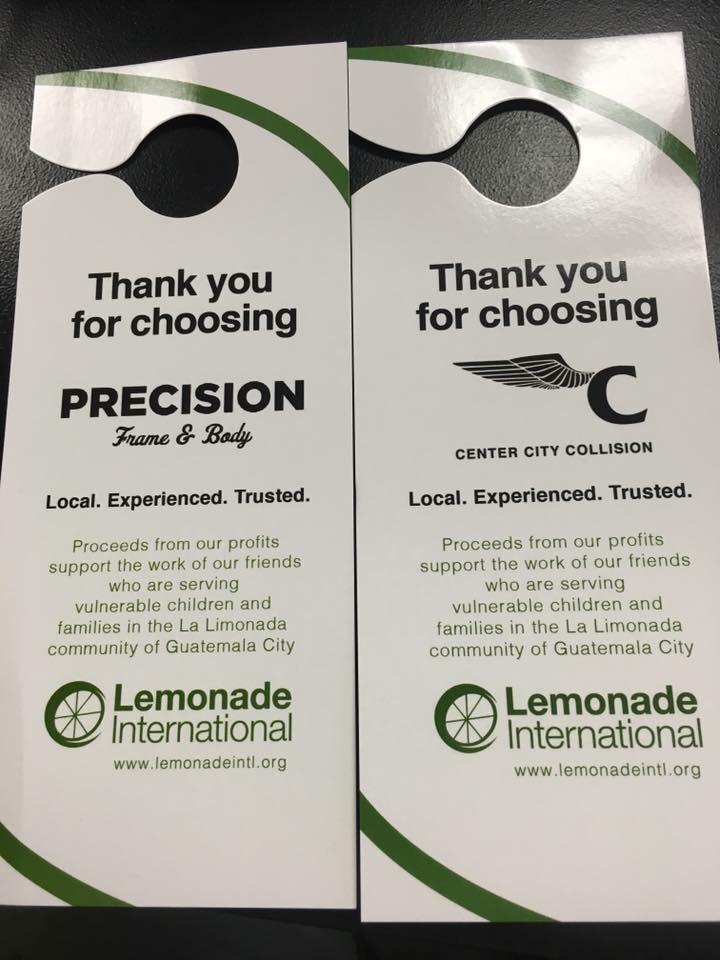 After the final clean ups for each car we repair, we leave a mirror hanger that promotes the work of our friends in La Limonada. We want to be associated with quality, care, and generosity. It's who we are and it's what we believe in. We couldn't be more excited for how this partnership will grow and continue into the years to come. Jon and I are planning an April trip to Guatemala to explore more ways we can partner with the needs of the community. We envision future opportunities to bring some of our employees with us to experience firsthand the "smell of hope," as Tita has lived and dreamed in that neighborhood. It's a blessing to partner with Lemonade International – it's what big life in the kingdom of God is all about.
– Chris Marshall
Post a Comment or Prayer