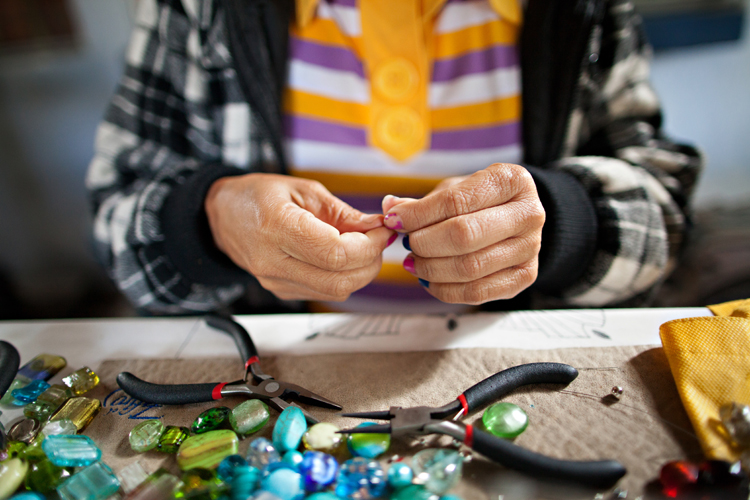 I like the phrase "everything healthy grows." But I also think it is important not only grow healthily but to remain. We who work in the vocational training program are grateful and celebrating grow healthily and with the wishes of remain for long.
It is a joy for us to savor the fruits of the seeds of patience, perseverance, and discipline planted last year with hard work, diligence, and love. This "healthy growth" translates into the opportunity to having two more beautiful and valuable women in our program, Marjuri and Betty. But growing up is a challenge too.
Salma and Alma, who are our experts in the field of jewelry, now have the responsibility to teach and guide these new trainees. We are really happy to see them take these leadership roles and do it so well. I am delighted to see how Alma, who is now responsible for some administrative tasks, takes responsibility, complies very well, and works with excellence. Salma, who is the most experienced, not only boasts of this (with good humor), but she patiently teaches what he knows to Marjuri and Betty.
This "healthy growth" also gives us the challenge to be able to offer these women job security. For this we continue to promote our products in order to further increase our sales. This month, as we celebrate friendship and love, we invite you to give away something meaningful and purposeful while blessing these beloved four women.
You can acquire our products online through Women At Risk by searching "lemonade" in their online store. At The Root Collective you can find our necklaces in different colors and styles, including Emerald Pop, Upcycled Soul, Black Pop, and Magenta Pop.
Thank for you supporting these women and for creating opportunity for others!
– Sam Brizuela
Post a Comment or Prayer