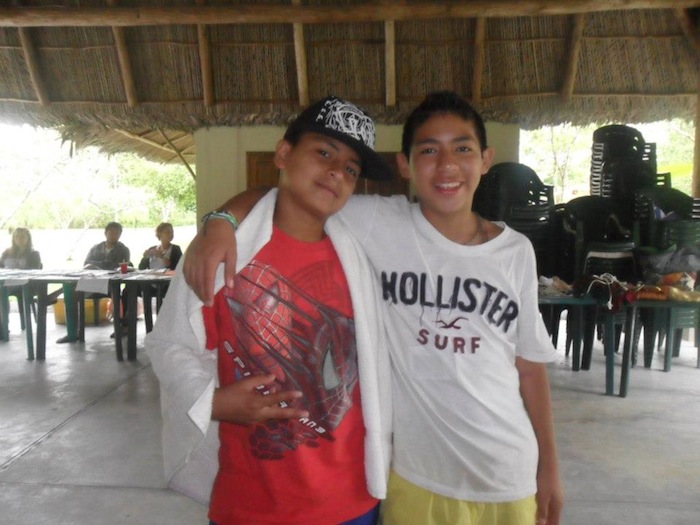 After having spent the past year working with and loving the children of La Limonada, I can say without a doubt that Art Camp was the best week of the year! Kids who are normally so held down by life burdens – hunger, alcoholic parents, drugs, violence, gang activity, prejudice – joined us in a beautiful location and simply enjoyed themselves. To see their personalities flourish and shine, to see their giant smiles and to hear their words of appreciation was priceless.
Having been such an amazingly full week, it would seem difficult to pick just one thing that stands out as the best part; but for me that one thing was clear from day one: Seeing kids from the two different schools freely building friendships. Our two schools are in two different barrios (neighborhoods) of La Limonada, which is divided into 10 barrios. Each barrio is in conflict with the others, making it impossible for the residents of one barrio to cross into another. Children who are "born enemies" were taken out of their context for a week and put into a new context, one where kids may be friends with whoever kids they please… and it was beautiful!
I was most impressed by the budding friendship of Josué (from Mandarina) and Edison (from Limon). These two young men are quickly approaching the age when gang involvement often starts. They are probably already amidst the pressure of family members and friends already swept up in the gang culture. In one version of this story, they could possibly grow up to be enemies, wishing harm on the other, possibly causing harm to the other. But there's another version of this story that is so full of potential. At Art Camp, I didn't see two budding gangsters; I didn't see one ounce of violence or malice. I saw two boys running and laughing, splashing each other in the water. I saw two boys who became inseparable for a week and were hardly seen apart.
I was thinking out loud to Tita one day at camp and I said, "Tita, this is where change starts. This is where the borders start coming down!" I truly believe that. Josué and Edison are no longer enemies from different barrios, they are good friends with great memories of laughing in the sun together. With more uncommon friendships come more bridges crossing the borders in La Limonada. I hope that we never underestimate the power of that and it's potential to transform La Limonada.
-Tina Breshears
Post a Comment or Prayer