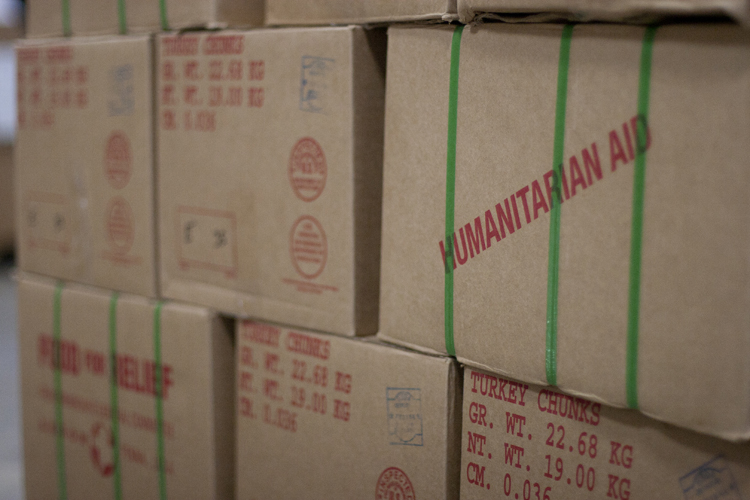 Boxes of canned meat are loaded onto trucks. While the boxes in the photo were sent to the Philippines, MCC sends shipments to countries all over the world, including Guatemala. (MCC Photo/Rhoda Shirk)
From time to time we like to introduce you to our partners and other organizations doing incredible work in Guatemala. One of the groups doing great work in Guatemala is the Mennonite Central Committee. MCC first came to Guatemala nearly 40 years ago as part of the emergency response to the devastating earthquake of 1976. Today, MCC staff live and work largely in rural parts of the country, where they walk alongside indigenous people to improve education and agriculture in their communities. In keeping with the historic Anabaptist movement to which the organization belongs, MCC also supports vital ongoing efforts to build peace and trust following many years of war.
Recently, having learned about the work of Vidas Plenas in La Limonada, Michael Chapman, who is serving with his wife as MCC country representatives for Guatemala, approached us about the possibility of collaborating.
"We have a process of receiving a bit of food aid from the US and Canada, which is mostly used in disaster response situations," Michael told us. "Mennonite communities all over North America get together, donate meat—pork, turkey, or beef—and then collect volunteers to can it and package it for shipment. It's a pretty incredible process, is all done to FDA standards, and is marked as food aid."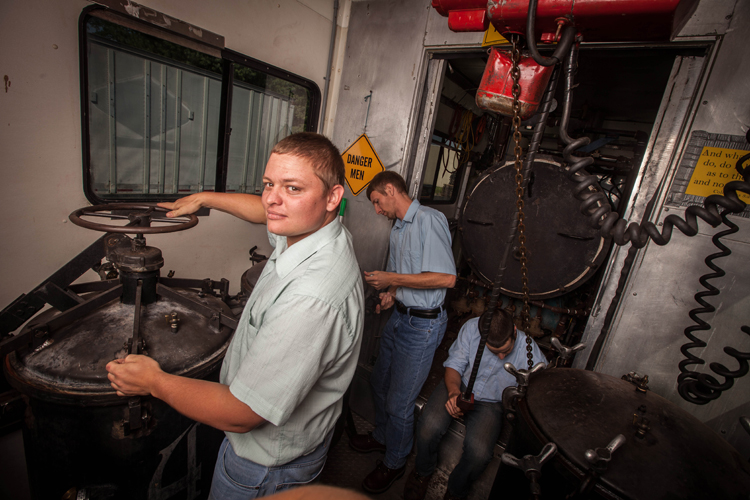 Andrew Keeler from Bluffton, Ohio, Toby Penner from Paratodo, Paraguay, and Stanley Toews from Lloma Plata, Paraguay working together on the meat canning process. (MCC photo/Silas Crews)
While quantities are generally sent to disaster response situations, this time they had a surplus. After considering other organizations with existing programs that include a nutrition component, Vidas Plenas emerged as a good possibility:
We were particularly excited about partnering with Vidas Plenas because we live in Guatemala City and are well aware of the extremities that exist between the wealthy and the poor, the extremities that exist when it comes to access to nutritional food, safe homes, safe communities, and safe schools. MCC works in Guatemala City, but only in a few locations, and so broadening that vision and partnering with Vidas Plenas to support the great work they do in a very marginalized section of the city was an obvious choice and a partnership we hope we can maintain and strengthen in the future.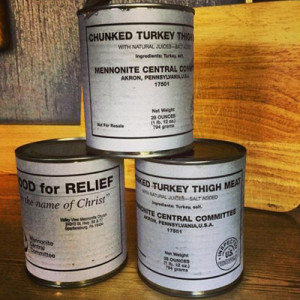 All told, we received 2,400 cans of turkey meat to be distributed to our academies and the Mi Casita safe home, to supplement the meals these children already receive every day. To read more about MCC's meat canning program and recent deliveries elsewhere in Guatemala and El Salvador, click here.
We are grateful for MCC's generosity, inspired by its workers' dedication to seeing communities throughout Guatemala flourish, and we look forward to finding ongoing ways to collaborate and partner in the future.
Thank you to everyone at MCC and beyond who made this possible!
– Tim Høiland
Post a Comment or Prayer